Original article

Open Access
The study of the variability of biomass from plants of the Elodea genus from a river in Germany over a period of two hydrological years for investigating their suitability for biogas production
Energy, Sustainability and Society
2017
7:15
Received: 19 January 2017
Accepted: 9 May 2017
Published: 23 May 2017
Abstract
Background
Aquatic plants are an important component of aquatic ecosystems. They are valuable for the oxygen and carbon dioxide household and generate habitats especially for small fish and other small organisms. However, problems for the maintenance of water bodies can result from mass occurrences of these plants. Invasive neophytes - such as members of the Elodea genus - are particularly problematic in this regard. Aquatic plants need to be harvested regularly to ensure that water bodies remain usable and to safeguard flood protection for flowing water bodies. Energy can be produced from the harvested material by anaerobic digestion in biogas plants. Therefore, it is beneficial to know the best time for harvesting in this context.
Methods
To identify the best time for harvesting, samples of the Elodea stock in the river Parthe in Leipzig-Schönefeld were taken each week over the course of the two hydrological years 2015 and 2016. The composition of these samples was analyzed in the laboratory. In the second hydrological year, three samples from surface areas of 1 m2 were also harvested once each month in order to determine the biomass yield per unit area.
Results
The best harvesting time for energy production from Elodea biomass in Germany is in the summer months (June to September). During this period, the specific yield of 0.5–0.7 kg VS/m2 is relatively high and the Elodea biomass contains the highest fractions of volatile solids (80.1 ± 2.3%), high contents of plant nutrients (N 35.9 ± 4.0 g/kg TS; P 6.1 ± 1.4 g/kg TS; and K 47.7 ± 8.0 g/kg TS), and low concentrations of heavy metals (Cr ≤8.9 mg/kg TS, Cd ≤0.9 mg/kg TS, Cu ≤120 mg/kg TS, Ni ≤30 mg/kg TS, Pb ≤8.6 mg/kg TS, and Zn ≤439 mg/kg TS).
Conclusions
Energy production from Elodea biomass is feasible. This biomass also provides the nutrients and trace elements necessary for the digestion in the anaerobic process.
Keywords
Elodea nuttallii Elodea canadensis WaterweedNeophyteAquatic biomassAquatic macrophytesHydrological yearBiogas production
Background
Aquatic plants and, in particular, invasive neophytes such as certain members of the Elodea and Myriophyllum genera have the potential to clog up water bodies significantly over the course of one vegetation period. These dense plant stocks are useful hiding places, nursery grounds, and sources of nutrition for aquatic animals such as fish, insects, and mollusks. These fast-growing plants are reduced by aquatic birds such as the Eurasian coot (Fulica atra L.) or the mute swan (Cygnus olor GMELIN) and by certain fish species such as the common rudd (Scardinius erythrophthalmus L.) [1].
However, the aquatic plant biomass has to be removed at regular intervals to safeguard human interests such as flood protection for flowing water bodies and to allow lakes to be used for leisure purposes. Up to now, the only effective method of accomplishing this has been to cut and remove the plant material [2]. The harvested aquatic-plant biomass is generally disposed of without being put to further use, sometimes left to rot on the banks of drainage channels and smaller rivers. The latter approach often has the negative effect that nutrients, which are released when the biomass decomposes, flow back into the water bodies and promote renewed eutrophication.
It is more beneficial to consider the harvested aquatic-plant material as a raw material instead of regarding it as a waste that needs to be disposed of. The biomass of Western waterweed (Elodea nuttallii (Planch.) St. John) has already been investigated with regard to its suitability as a raw material for cosmetics [3], as a starting material for hydrothermal carbonization [4] and as a substrate for energy production in biogas plants [5]. Samples of E. nuttallii from five different lakes in Germany showed specific biogas yields of 415–520 Lbiogas/kg volatile solids [5], which is comparable to hay or cattle dung.
Different requirements apply to aquatic-plant biomass depending on the intended purpose of its subsequent re-use. If this biomass is to be used as a starting material for manufacturing cosmetics, small quantities with high quality are required. For this type of application, it may be advantageous to have divers who can harvest the plants by hand. However, the removal of water plants in order to maintain the usefulness of water bodies generally results in quantities of biomass on a cubic-meter scale within short periods of time. For instance, in the Parthe - a small river in Saxony - about 250 tons of fresh water aquatic-plant biomass was harvested on a length of 7.5 km in the summer of 2014 [6]. In this case, the primary use that comes into consideration is as a substrate for energy production in biogas plants [3, 5]. One prerequisite for an efficient use for this purpose are short transport distances to biogas plants - this condition will generally be fulfilled in Germany, which has almost 9000 biogas plants [7]. In addition, the biomass must contain fermentable organic components. Muñoz Escobar et al. [3] observed the biogas production from E. nuttallii samples taken from five lakes in Germany. The specific gas yield was between 415 and 520 L/kg volatile solids (VS) in the magnitude of hay or straw.
If the aquatic-plant biomass is to be harvested for some purpose, it is useful to know the extent to which its chemical composition varies over the course of the year. Thus, the aim of this research work was to investigate the physicochemical properties of one Elodea stock in the river Parthe over a period of two hydrological years. This information could then be used to determine the ideal harvesting periods to meet various quality requirements, for example. Although there are many scientific papers about Elodea sp., none of them investigated the seasonal changes in the biomass composition, which are relevant for the use of this aquatic biomass for biogas production.
Methods
Sampling
Samples of the
Elodea
stock in the river Parthe (a first-order stream) were taken from the river each week inside Leipzig's city boundaries (51° 21′ 53.2″ N, 12° 24′ 51.2″ E). The river Parthe is 48 km long; thereof, 12.6 km is within the city of Leipzig. The area where samples were taken was about 10 m long, with a river width of around 3 m and a water depth of between 0.5 and 1 m (Fig.
1
).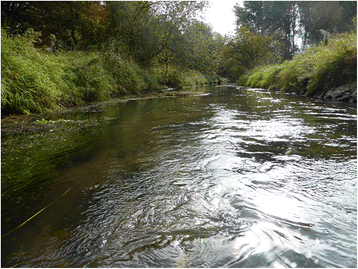 The hydrological years (1 November to 31 October, according to the German standard DIN 4049) 2015 and 2016 were used as the period to investigate the material properties of Elodea from the river Parthe in Leipzig, Germany. Samples were taken once a week between 7 a.m. and 10 a.m.
In order to determine the material properties of Elodea biomass, a sample of the Elodea stock was analyzed. The Elodea biomass was harvested using a six-pronged weed-removal device that was attached to a 10-m-long line. If the plants were too fragile to allow for biomass removal using this device, a rake was used instead (23 April 2015 to 15 July 2015). Each sample had a 2-L volume and consisted of above-ground parts of Elodea plants. In order to ensure the homogeneity of the sample, at least two samples were taken and mixed before analysis.
Moreover, the entire aquatic-plant biomass in 1 m
2
of surface area of the river Parthe was removed once a month - on 6 June, 12 July, 8 August, 12 September, and 10 October 2016 - and the fresh weight of the removed material was determined in order to calculate the specific yield. A metal frame was used to mark the area in each case (Fig.
2
); the weight of the plant biomass was determined using a potato sack and luggage scales. In the case of samples taken in August, September, and October, this procedure was carried out three times to ensure statistical reliability.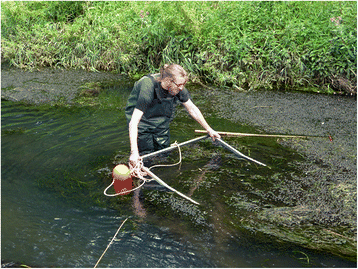 The Elodea samples were taken to the laboratory in a closed bucket immediately after being removed. They were then washed with tap water and immediately dried by the use of a paper towel, in order to remove the adhesive water before analysis.
Determination of total and volatile solids
The fresh samples of Elodea were weighed and dried at 60 °C (105 °C would have been too destructive for subsequent analysis) to determine their total solids (TS).
An aliquot of the dried samples was heated to 550 °C in a muffle furnace to determine the content of volatile solids according to DIN 12879.
Determination of elements
The elements aluminum, boron, calcium, iron, potassium, magnesium, manganese, phosphorous, sulfur, and zinc in the plant samples were measured using ICP-OES (ARCOS, SPECTRO Analytical Instruments GmbH, Kleve, Germany) according to the US-EPA method 200.7. The elements arsenic, cadmium, cobalt, chrome, copper, molybdenum, nickel, and lead were measured using ICP-MS (ICAPQs, Thermo Fisher Scientific GmbH, Bremen, Germany) according to the US-EPA method 200.8 due to their lower limit of detection.
Determination of the carbon-nitrogen ratio
To determine the amounts of carbon and nitrogen contained in the plant samples, they were incinerated at 950 °C in an element analyzer (Vario-EL III, Elementar Analysensysteme GmbH, Hanau, Germany) with a thermal conductivity detector. The C/N ratio was then calculated from the C and N contents that were determined.
Results and discussion
The C/N ratio was 10.0 ± 0.8 on average, which is quite low and corresponds to a C/N ratio of vegetable waste [9]. It is therefore recommended to mix the aquatic plant material with a substrate with a high in C/N ratio, such as straw for the purposes of AD.
The water content of the biomass of 93.0 ± 1.0% (n = 113) on average, which is high in comparison with energy crops such as maize or grain, is useful if a mixed silage of aquatic plants and straw with a suitable dry matter content is created [10]. The TS generation per square meter does not show a clear extension between June and September due to the annual radiation curve. This might be explained by saturated growth. Further research on this topic is necessary.
With regard to the concentration of all elements in the aquatic-plant biomass and, in particular, that of heavy metals, their content in the water and the sediment of the body of water must be taken into account, as there may be very significant regional differences here that are also reflected in the quality of the biomass (cf. [11–13]).
Significant removal of nutrients from the body of water also occurs as a result of the harvesting of aquatic plants [14]. For example, 24.4 ± 2.6 g of nitrogen and 6.5 ± 2.8 g of phosphorous per square meter were removed from the river on average by harvesting biomass when determining the yield per unit area.
Conclusions
Our study shows that biogas production using invasive plant biomass is feasible if based on a season with both optimal yield and chemical composition of plant material. Our approach to harvest highly productive invasive plants for bioenergy production may therefore serve as a model for the economically and environmentally sustainable management of other invasive neophytes. Harvesting Elodea biomass for biogas production may thus not only represent a useful control measure to reduce its ecological and economic impacts but can also even provide an additional economic benefit. Moreover, E. canadensis and E. nutallii are invasive neophytes, included in the "Black List" of invasive species to be controlled in Germany [7]. Eradication of well-established invasive plants is often not feasible; hence, alternative control measures have to be considered [15]. As biomass production of invasive plants is often high [16, 17], harvesting their biomass, e.g., for bioenergy conversion, has been suggested as an alternative management strategy [18]. This approach, however, may be economically unsustainable if the conversion process depends on the availability and characteristics of the particular plant population [19]. If harvesting is managed in a targeted manner, the removal of aquatic plants to maintain the usefulness of water bodies can be combined with both the harvesting of an innovative substrate for biogas plants and a significant removal of nutrients from the relevant water bodies. Further studies are needed to elucidate how biomass harvests will influence both the long-term dynamics of the invasive plant population and the response of the native species community.
Abbreviations
FM:

Fresh mass [kg]
TS:

Total solids [% FM]
VS:

Volatile solids [% TS]
Declarations
Acknowledgements
The authors would like to thank Steffen Schmidt, Aline Bauer, Markus Gießmann, Harald Wedwitschka, Sebastian Engel, and Lukas Marx for their support in collecting the samples and carrying out the analysis; Antje Thondorf from the Department of Community Ecology for the analysis of carbon and nitrogen; and Grit Weichert and Ines Richter for their support in the Department Centre for Environmental Biotechnology's laboratory.
Funding
The investigations that form the basis for this article were carried out within the framework of the "Aquatic macrophytes – Optimal ecological and economic use" (AquaMak) research project. The "AquaMak" project is supported by the German Federal Ministry of Food, Agriculture and Consumer Protection with funds from the so-called Energy and Climate Funds (EKF) on the basis of a decision of the German Parliament (grant number: 22403013). The project partners are the Helmholtz Centre for Environmental Research - UFZ, Nürtingen-Geislingen University - HfWU, and the German Biomass Research Centre - DBFZ.
Authors' contributions
AZ led the project, collected and sorted the publication and information material, collected and analyzed the samples, and prepared the manuscript. LM collected and analyzed the samples, contributed to the critical reading of the manuscript, and provided input for the final version. HJS analyzed the Elodea samples on elements using ICP-OES and ICP-MS. HA determined the C/N ratio of the Elodea samples. MR and WS contributed to the consultations and critical reading of the manuscript. All authors edited and approved the final manuscript.
Authors' information
AZ is a senior researcher and group leader of the research group Bioprocess Engineering at the Department Centre for Environmental Biotechnology at the Helmholtz Centre for Environmental Research GmbH - UFZ and professor at the University of Cooperative Education Riesa. LM is a researcher at the Department Centre for Environmental Biotechnology at the Helmholtz Centre for Environmental Research GmbH - UFZ. HJS is a senior researcher in the Department of Analytical Chemistry at the Helmholtz Centre for Environmental Research GmbH - UFZ. HA is a senior researcher and a head of the research group Plant Population Ecology at the Department of Community Ecology at the Helmholtz Centre for Environmental Research GmbH - UFZ. MR is a research assistant at the Institute for Applied Research (IAF) and Institute for Landscape and Environment (ILU) at the Nürtingen-Geislingen University. WS is a senior researcher in the Department of Biochemical Conversion at Deutsches Biomasseforschungszentrum gGmbH - DBFZ.
Competing interests
The authors declare that they have no competing interests.
Publisher's Note
Springer Nature remains neutral with regard to jurisdictional claims in published maps and institutional affiliations.
Open AccessThis article is distributed under the terms of the Creative Commons Attribution 4.0 International License (http://creativecommons.org/licenses/by/4.0/), which permits unrestricted use, distribution, and reproduction in any medium, provided you give appropriate credit to the original author(s) and the source, provide a link to the Creative Commons license, and indicate if changes were made.
Authors' Affiliations
(1)
Department Centre for Environmental Biotechnology, Helmholtz Centre for Environmental Research - UFZ, Leipzig, Germany
(2)
Department of Analytical Chemistry, Helmholtz Centre for Environmental Research - UFZ, Leipzig, Germany
(3)
Department of Community Ecology, Helmholtz Centre for Environmental Research - UFZ, Halle, Germany
(4)
Institute for Landscape and Environment (ILU), Nürtingen-Geislingen University (HfWU), Nürtingen, Germany
(5)
German Biomass Research Centre - DBFZ, Leipzig, Germany