Original article

Open Access
Raising awareness in model-based energy scenario studies—a transparency checklist
Energy, Sustainability and Society
2016
6:28
Received: 20 January 2016
Accepted: 17 August 2016
Published: 28 September 2016
Abstract
Background
The focus of the paper is on scenario studies that examine energy systems. This type of studies is usually based on formal energy models, from which energy policy recommendations are derived. In order to be valuable for strategic decision-making, the comprehensibility of these complex scenario studies is necessary. We aim at highlighting and mitigating the problematic issue of lacking transparency in such model-based scenario studies.
Methods
In the first part of the paper, the important concept of transparency in the context of energy scenarios is introduced. In the second part, we develop transparency criteria based on expert judgement. The set of selected criteria is structured into 'General Information', 'Empirical Data', 'Assumptions', 'Modeling', 'Results', and 'Conclusions and Recommendations'. Based on these criteria, a transparency checklist is generated.
Results
The proposed transparency checklist is not intended to measure the quality of energy scenario studies, but to deliver a tool which enables authors of energy scenario studies to increase the level of transparency of their work. The checklist thus serves as a standardized communication protocol and offers guidance for interpreting these studies. A reduced and a full version of the checklist are provided. The former simply lists the transparency criteria and can be adopted by authors with ease; the latter provides details on each criterion. We also illustrate how the transparency checklist may be applied by means of examples.
Conclusions
We argue that transparency is a necessary condition for a reproducible and credible scenario study. Many energy scenario studies are at present characterized by an insufficient level of transparency. In essence, the checklist represents a synthesizing tool for improving their transparency. The target group of this work is experts, in their role of authors and/or readers of energy scenario studies. By applying the transparency checklist, the authors of energy scenario studies signal their commitment to a high degree of transparency, in consonance with scientific standards.
Keywords
Scenario analysisEnergy modelingTransparencyOpen access
Methods
Conceptual framework
In order to clarify the meaning of frequently used terms within the following text sections, Fig.
1
shows the data and information flow within a model-based ESS. Its purpose is to consistently put the key terms 'Empirical data', 'Assumptions', 'Model exercise', 'Results' and 'Conclusions and recommendations' into a context representing the background for the construction and discussion of transparency criteria. Thus, the conceptual framework follows the typical steps of conducting a model-based ESS: collection and preparation of empirical data for the model-based data processing, assumption-making, model application and preparation of model outputs as well as deriving comprehensive conclusions and recommendations. As depicted in Fig.
1
, empirical data can be divided into primary input data which is imported to the model directly and secondary input data which needs pre-processing before being imported. The model exercise contains at least one model (here called 'model A'). However, in some cases, a combination of two models or more is applied (for simplicity, we depicted a combination of only two models via a linkage stream). Similar to input data, outputs are divided into primary and secondary data. Further, this figure illustrates that assumptions can be made for the model as well as optionally for the pre-processing, post-processing, additional applied model(s) and linkage(s) between models. Results represent the last step of the model exercise. They are given based on the model output data. Finally, conclusions and recommendations are made based on the whole chain from the empirical data to the results (indicated by the solid arrow in Fig.
1
).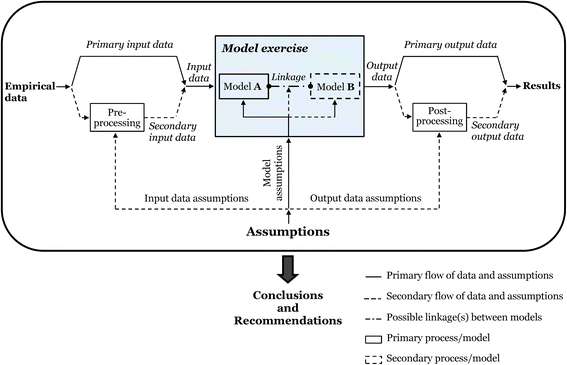 Construction of transparency criteria
With the aim of increasing the transparency of ESS, we collected criteria on information needed to understand the fundamental contents of an ESS, initially adopting the perspective of an ESS user. The applied methodology can be seen as an alternating combination of two established approaches: qualitative expert interviews [38] and expert validations. Applying the conceptual framework above introduced, we set up a first collection of transparency criteria. It is based on the results of an ESS assessment workshop conducted by members of the Helmholtz School on Energy Scenarios [39]. In individual preparation for this workshop, specific questions7 on two explicit ESS [40, 41] had to be answered. As all of the participants of this workshop are ESS authors as well as users, the initial compilation of transparency criteria represents the first round of the expert validations.
Meeting the identified transparency criteria means creating a complete and comprehensible overview of the underlying work and premises of an ESS. We found that this information needs to be provided in a format that can be easily used. Standard protocols or rather strict guidelines can help to list and describe assumptions as well as to transparently communicate the functional links between these and the model results. However, formulating such an instrument in a way that is too constricted bears the risk of high entry barriers and prohibits transferability over a wide range of model-based ESS. We therefore concluded that a simple as well as flexible tool is essential and intentionally propose the format of a checklist.
Thus, we subsequently rearranged the first collection of transparency criteria for ESS and extended it by frequently asked questions (FAQ). The first version of the checklist represented the template for individual interviews and discussions with three German post-doc researchers, one expert working with energy system modeling and two experts in the field of energy scenario assessment and scientific policy advice. Hence, the listing was updated by the feedback of these selected experts. For the second expert validation round especially, the perspective of ESS authors was emphasized. The idea of a transparency checklist for ESS was presented during the second workshop of the openmod initiative [26], attended by 35 researchers from European research institutions who are experienced in the field of energy system modeling. The presented version of the checklist was again evaluated and updated with respect to the feedback of the openmod workshop. Considering the outcome of our literature research, we finally added study examples to each transparency criterion and conducted final expert interviews. This time, one post-doc social scientist and one post-doc energy system modeler were asked to suggest improvements to the checklist.
In the following sections, we call the final product of this construction process the 'ESS transparency checklist'.
Limitations of the construction approach
Individual expert interviews are a well-established methodology in social science [42]. In addition, the expert validation has similarities to DELPHI approaches [43]. Hence, it provides the evaluation of a broad set of opinions on an interdisciplinary research topic and subsequently complements the individual expert interviews. It represents therefore an appropriate way to avoid expert dilemma and to gain an intersubjective collection of transparency criteria as far as possible [44]. However, only a limited number of experts were involved in the checklist compilation. Also, it should be noted that the energy modelers obviously dominated the selection of respondents. Thus, the checklist cannot claim to reflect a representative range of opinions in the scientific community dealing with ESS.
Moreover, the provision of a checklist template allows on the one hand a comfortable way to compare the outcome of the interviews and to extend it with additional viewpoints. But, on the other hand, as an existing guideline, it also restricts the spectrum of conceivable criteria to be discussed. Consequently, possible improvements to the construction methodology could be achieved by extending it by both further approaches such as constellation analysis [45] as well as a broader and more balanced selection of involved experts.
Results and discussion
The ESS transparency checklist can be seen as an overlay communication protocol between ESS authors and users which is not intended to automatically assess the quality of ESS and their content (data, model or assumptions), but at least to enable readers to assess these points for other addressees or their own work.
From the point of view of an ESS author, the collection of transparency criteria results in a checklist containing questions which are frequently asked by modeling experts trying to understand an ESS done by other experts. In this context, a checklist gives unexperienced ESS authors a summary of important aspects that need to be considered, especially for performing a scenario-based analysis used for deriving recommendations for decision-makers.
From the user's perspective, the ESS transparency checklist is a catalogue of FAQ related to a section of the appropriate ESS document or report. Consequently, adding the proposed checklist to an energy scenario study means in a broader sense providing effective access to individually relevant and structured information to the user by an additional table of contents. The experienced reader benefits from this representation format of transparency criteria because time-consuming searching through the document for specific information can be avoided.
The ESS transparency checklist and its application
We distinguish between two versions of the transparency checklist (see section 'Appendix'). The full version, provided at the end of this manuscript, can be seen as the checklist's manual which clarifies in detail what is meant by the various criteria. This is realized in three ways: by asking relevant expert questions, by using simple made-up examples and by referencing an existing study that meets the particular criteria. Although we consider the ESS transparency checklist to be, in principle, applicable to any model-based scenario study, the examples provided are, given our focus, pertinent to energy scenarios.
The second version of the transparency checklist is the
reduced version
. This version is intended for application to a particular ESS (cf. Table
1
). As an additional table of contents, this reduced version only consists of the transparency criteria and a second table column. In the latter, an ESS author only has to enter the specific page numbers of the study, on which a certain transparency criterion is supposed to be fulfilled. However, the extent to which any criterion is met depends on the ESS authors' assessment. With the checklists' primary purpose to raise awareness for transparency, we intentionally chose this open way of dealing with the transparency criteria to keep the cost of its application low. Thus, ESS authors can use the reduced version of the checklist at ease and add it to any document without the need of changing the structure or content of the ESS it should be applied to.
Table 1
The reduced version of the ESS transparency checklist to be used as an additional table of contents
Criterion

Page number

General information

 1. Author, institution

 2. Aim and funding

 3. Key term definitions

Empirical data

 4. Sources

 5. Pre-processing

Assumptions

 6. Identification of uncertain factors

 7. Uncertainty consideration

 8. Storyline construction

 9. Assumptions for data modification

Model exercise

 10. Model fact sheet

 11. Model specific properties

 12. Model interaction

 13. Model documentation

 14. Output data access

 15. Model validation

Results

 16. Post-processing

 17. Sensitivity analyses

 18. Robustness analyses

Conclusions and recommendations

 19. Results-recommendation relationship

 20. Uncertainty communication
Discussion of transparency criteria—the full version
In the following, we discuss the several categories of the ESS transparency checklist in more detail. It is mainly conceived for practitioners to facilitate full application of the checklist (see section 'Appendix').
This should be enabled by additional columns for a further description of the criteria. So, the column 'transparency question' contains one or more exemplary expert questions which can be assigned to a transparency criterion. The column 'examples and further description' shows simple examples for formulations that would contribute to fulfilling the transparency criterion. Finally, the column 'applied study' gives a concrete example of existing ESS where providing transparency is done from our point of view.
Limitations of the ESS transparency checklist
The ESS transparency checklist as a first step to improve transparency in ESS is an expert-to-expert tool. This entails a restricted perspective of the issue of lacking transparency in ESS as well as a limited transferability to non-experts. However, the difference in perspective between experts (here, modelers or ESS authors) and non-experts is important. For example, Walker et al. [50] explicitly distinguish, in the context of uncertainty, between the modeler's view and the decision-makers' or policymakers' view. To some extent, the transparency criteria in their current form are beneficial for non-experts as they provide a first insight into the key assumptions and methodologies of an ESS. Nevertheless, although this may be of value to non-experts, addressing their needs in a more comprehensive manner requires an approach that differs from the ESS transparency checklist. For instance, an adaptation or enlargement of the transparency checklist might ensure applicability to a broader audience.
Furthermore, asking ESS authors to fill out the checklist by themselves may raise the question of quality assurance and as a qualitative empiric tool the checklist includes potential conflicts of interest of energy modelers. However, with regard to this, for quality assurance, we rely on the practice of good scientific conduct in the modeling community.
Finally, the ESS transparency checklist facilitates and also requires a certain level of standardization, which is a key element in order to provide comparability of model-based ESS. Consequently, it determines to some extent in which way ESS are presented (i.e. what information is conveyed and at what level of transparency). However, it is important to stress that standardization is not a panacea, since ESS are very diverse and the current version of the checklist naturally does not exhaust all reporting possibilities. This is one reason why ESS authors might find it challenging to apply the checklist to their study.
Conclusions and outlook
If ESS are to meet their purpose, openness to public scrutiny is needed. We argue that a high degree of transparency in consonance with scientific standards is still pending in model-based ESS. In this paper, an instrument to tackle this issue has been proposed in the form of the ESS transparency checklist. This tool is conceived as an addition to transparency approaches such as open source which represent so called glass box (i.e. high level of transparency) models. It presents the key information of model-based ESS in a compact and standardized manner. In practical cases where, for various reasons, ESS authors are unable to provide their glass box model, the checklist may be used as a tool that meets a minimum requirement for transparency.
The ESS checklist is the outcome of a process which includes literature review, expert interviews and expert validations. Its structure follows the method of data and information processing within a model-based ESS. Therewith, it distinguishes between input parameter modification in advance of the modeling (pre-processing) and post-processing which aims at condensing rare model outputs (post-processing). Stressing, especially, the importance of assumptions communication and model documentation, the checklist considers different levels of detail to provide information for study users with different degrees of knowledge about a modeling exercise. Although the ESS transparency checklist appears to be a useful tool for modeling experts in the first place, it is the first step for a standardized communication protocol between performers and assessors of complex studies in the field of energy scenarios.
We do not expect to leave this issue completely resolved. Instead, an attempt is made to highlight one weakness in ESS, and we put forward our initial suggestion for improvement. For instance, we suggest the development of transparency criteria for a broader spectrum of addressees, such as the public or policy-makers. The reduced version of the ESS transparency checklist (see Additional file 1) can be a valuable starting point for this purpose, but further questions (e.g. 'What does a solver routine do?') need to be considered as well. In order to identify transparency criteria, e.g. for politicians or public stakeholders, we suggest further surveys, specially adapted to these addressees taking into account customized communication strategies as proposed by Kloprogge et al. [21]. A useful manner of addressing the needs of non-experts may be by means of producing a modeling guide for non-experts. Such a guide could contain fundamental issues and answers to questions a non-expert user should ask about the model exercise.
We think that the ESS transparency checklist is a simple but very helpful tool for authors and readers of ESS and expect that its adoption will help improve the quality of such studies in the future. We would like to invite potential users to benefit by applying it to their studies and reports. Comments and critiques from the research community and experienced users of model-based ESS are welcomed.
Footnotes
1
In this paper, we refer to the following definition of the word 'scenario' given by the Intergovernmental Panel on Climate Change (IPCC): 'A plausible and often simplified description of how the future may develop, based on a coherent and internally consistent set of assumptions about driving forces and key relationships' (p. 86) [59].
2
'Availability bias' describes the tendency of ESS authors to include their knowledge of historic events (e.g. the past development of electricity prices) and own experience into the rationale behind their model parametrization or model methodology. In consequence, unexpected or disruptive elements might be neglected in the modeling approach. For the availability heuristic and availability biases in the context of risk, see [61, 62].
3
In this paper, a 'model' is defined as a mathematically consistent framework including an inter-dependent set of equations which aims to analyse how phenomena occur in a complex system. It is usually in the form of a computer algorithm.
4
In general the terms 'reader' or 'user' are reserved to designate those people who—expert or not—use the outcome of ESS, e.g. for decision making or subsequent modeling exercises. Note that this paper addresses expert users in particular.
5
By assumptions, we mean reasonable, best guess definitions for unknown values or relationships between variables which are supposed to be plausible but cannot be directly validated by measured data. In ESS, this applies either for future developments, generalization in order to reduce complexity (of data or models) or incomplete data sets for which measurements are not fully available. Thus, assumptions may differ depending on the professional background, intention, or even ideology of persons who make them.
6
The term 'ESS author' refers to those people who develop ESS. Thus, in this paper, ESS authors can be understood as modeling experts having the intention to document an ESS. Often ESS authors are also readers of ESS.
8
These normative assumptions are a part of the storyline. For instance, they do influence the distinction of what is (not) included in the data processing and therefore define the system boundaries of the model(s).
Abbreviations
ABM:

Agent-based modeling
DOE:

US Department of Energy
ESS:

Energy scenario studies
FAQ:

Frequently asked questions
IPCC:

Intergovernmental Panel on Climate Change
ODD:

Overview, Design concepts and Details
PDI:

Progressive Disclosure of Information
SD:

System dynamics
TRACE:

Transparent and comprehensive ecological modeling evaluation
UML:

Unified Modeling Language
Declarations
Acknowledgements
We gratefully acknowledge the aforementioned funding. We also would like to thank people who contributed to the processes of evolving the transparency criteria and reviewing our work, including two anonymous reviewers as well as Sebastian Cacean, Christian Dieckhoff, Wolf Fichtner, Bert Droste-Franke, Patrick Jochem, Wolfgang Weimer-Jehle and the members of the Helmholtz Research School on Energy Scenarios. Finally, we would like to thank Gregor Betz and Thomas Pregger for providing the questionnaire for the initial workshop.
Members of the interdisciplinary Helmholtz Research School on Energy Scenarios
Karl-Kiên Cao, Felix Cebulla, Jonatan J. Gómez Vilchez, Babak Mousavi, Sigrid Prehofer.
Funding
We acknowledge support by Deutsche Forschungsgemeinschaft and Open Access Publishing Fund of Karlsruhe Institute of Technology. This work was also supported by the Helmholtz Research School on Energy Scenarios.
Authors' contributions
All mentioned authors were involved in the conception and refinement of the ESS transparency checklist as well as the writing and revision of the manuscript, but with different main responsibilities. The transparency checklist was discussed and elaborated within workshops conducted by KKC, FC, BM and SP, and the expert interviews within that process were carried out mainly by FC and BM. The article structure was mainly elaborated by JGV as well as the first draft of the abstract, introduction and the conclusions. JGV and BM were mainly responsible for the literature review, SP for the section about the construction of the transparency checklist and KKC for the results section. Apart from those main responsibilities, all sections also include designed or drafted parts by other authors. KKC and FC integrated all feedback, comments and revisions in the paper and revised the paper according to the journals standards. Finally, all authors (KKC, FC, JGV, BM and SP) helped integrate the reviewers' comments. All authors read and approved the final manuscript.
Authors' information
Karl-Kiên Cao, M.Sc. (KKC): Mr. Cao graduated as Bachelor in Electrical Power Engineering at the Baden-Wuerttemberg Cooperative State University Mannheim in 2010. He received his M.Sc. in Electrical Engineering and Information Technologies at the Karlsruhe Institute of Technology. Since 2013, he has worked as a PhD-student at the German Aerospace Center, Institute of Engineering Thermodynamics in Stuttgart.
Dipl.-Wi.-Ing. Felix Cebulla (FC): Mr. Cebulla studied Industrial Engineering for Energy and Environmental Management at the University of Flensburg and the Victoria University of Wellington. After his graduation in 2012, he started his PhD at the German Aerospace Center, Institute of Engineering Thermodynamics in Stuttgart.
Jonatan J. Gómez Vilchez, M.A. (JGV): Mr. Gómez Vilchez holds a Master in Transport Economics (University of Leeds). He is a PhD student at the Chair of Energy Economics, Institute for Industrial Production at Karlsruhe Institute of Technology (KIT).
Dipl.-Geogr. Sigrid Prehofer (SP): Mrs. Prehofer studied geography and political science at the Free University of Berlin and social work in Vienna and Berlin. Since July 2012, she has been a PhD student at ZIRIUS (Research Center for Interdisciplinary Risk and Innovation Studies) in Stuttgart.
Babak Mousavi, M.Sc. (BM): Mr. Mousavi holds a Master in Industrial Engineering at Amirkabir University of Technology in Tehran. Since March 2013, he has been a PhD student at IER (Institute of Energy economics and the Rational use of energy) in Stuttgart.
Competing interests
The authors declare that they have no competing interests.
Open AccessThis article is distributed under the terms of the Creative Commons Attribution 4.0 International License (http://creativecommons.org/licenses/by/4.0/), which permits unrestricted use, distribution, and reproduction in any medium, provided you give appropriate credit to the original author(s) and the source, provide a link to the Creative Commons license, and indicate if changes were made.
Authors' Affiliations
(1)
Institute of Engineering Thermodynamics, German Aerospace Center (DLR), Stuttgart, Germany
(2)
Institute for Industrial Production, Karlsruhe Institute of Technology (KIT), Karlsruhe, Germany
(3)
Institute of Energy Economics and Rational Energy Use (IER), University of Stuttgart, Stuttgart, Germany
(4)
Center of Interdisciplinary Risk and Innovation Studies (ZIRIUS), University of Stuttgart, Stuttgart, Germany