Original article

Open Access
Digestion of bio-waste - GHG emissions and mitigation potential
Energy, Sustainability and Society
2015
5:3
Received: 23 October 2014
Accepted: 22 December 2014
Published: 17 January 2015
Abstract
Background
For a precise description of the emission situation of the anaerobic digestion (AD) of the separately collected organic fraction of household waste (bio-waste), only a few data are available. The paper presents the greenhouse gas (GHG) emissions measured at 12 representative AD plants treating bio-waste. The results of the emission measurements were used to assess the ecological impact of bio-waste digestion and to describe possible mitigation measures to reduce the occurring GHG emissions. With respect to the climate protection, a quantitative assessment of the emissions of energy generation from biomass and biological waste treatment is important. Biogas plants need to be operated in a way that negative environmental effects are avoided and human health is not compromised.
Methods
GHG balances were calculated based on the measured emissions of the gases methane, nitrous oxide, and ammonia of bio-waste AD plants. The emission analysis supports the reduction of GHGs in biogas production and contributes to a climate-efficient technology.
Results
The results show that GHG emissions can be minimized, if the technology and operation of the plant are adjusted accordingly. The open storage of active material (e.g., insufficient fermented residues from batch fermentation systems), open digestate storage tanks, missing acidic scrubbers in front of bio-filters, or insufficient air supply during the post-composting of digestate can cause relevant GHG emissions.
Conclusions
Consequently avoiding open storage of insufficient fermented residues and using aerated post-composting with short turnover periods, smaller heaps, and an optimized amount of structure (woody) material can reduce GHG emissions.
Keywords
Anaerobic digestion
Emission measurement
Greenhouse gas balance
GHG mitigation
Background
Gaseous emissions are of great importance referring to the operation of biogas plants because they can affect the safety, the greenhouse gas (GHG) balance, and the economy of plants significantly. Depending on the used technology and the kind of operation, GHG emissions like methane, nitrous oxide, and ammonia are occurring. Methane emissions dominate GHG emissions of biogas plants.
Due to the global warming potential (GWP) of 25 relative to carbon dioxide [1], methane emissions have a strong effect on the climate change. Leakages, process disturbances, and unavoidable emissions during operation can influence the total GHG performance of the biogas plant negatively. Regarding measured emissions of biogas plants in operation, only a small number of detailed studies are available.
In former studies, the overall emissions of biogas plants usually have been estimated by assumptions, e.g., '1 % of diffuse methane emissions from the components of anaerobic digestion (AD) plants like digester, pipes,' etc. (e.g. [2,3]). However, in the recent years, several studies estimated methane emissions from biogas plants (e.g. [4-9]). Most of the published studies analyzed agricultural AD plants; if waste treating plants were investigated, only a few AD components were monitored as summarized by Dumont et al. [10]. Due to the fact that there are only few data describing the emission situation of AD plants based on bio-waste, in the study described here, 12 representative bio-waste treatment plants with AD process as part of the overall operation were analyzed. The overall objective of the study was a detailed analysis of GHG emissions generated from biogas production from bio-waste. This paper presents the results of a comprehensive measurement for GHG emissions at bio-waste digestion plants in operation during a long-term period of 3 years. Representative bio-waste digestion plants have been selected, and all relevant components of the process chain were investigated during two periods of a week per year on each of the selected plants to identify the main emission sources and the quantity of the emissions. The results of the emission measurements were implemented in an ecological assessment focused on GHG balances. The results of the examined biogas plants allow a description of possible mitigation measures to reduce GHG emissions. The results bring new aspects into the actual data base to support the assessment of environmental impacts of bio-waste digestion. Thus, the tests on practice biogas plants with respect to the whole process chain allow an optimization of the process in terms of reducing any identified emissions.
In Germany, approximately 9 million tons of bio-waste and green waste per year were collected separately in 2011 [11]. Most of this collected bio-waste and green cuts are used in composting processes. About 1.15 million tons of bio-waste per year and 0.05 tons of green cuts per year are used for digestion in biogas facilities [12]. By the end of 2013, there have been about 130 plants generating biogas from organic waste in operation. Compared to agricultural biogas plants, there is a higher share of dry fermentation processes in AD plants based on bio-waste. About one half of the bio-waste digestion plants are operated as dry fermentation plants in Germany, whereas half of the dry fermentation plants are operated discontinuously (batch system). Currently, there are 25 batch systems based on bio-waste in operation [13]. Due to the robustness of the process and the possibility to treat substrates which are hardly pumpable and contain disturbing materials (e.g., stones, metals, glass), the use of batch systems in case of dry fermentation processes of bio-waste is increasing. In the future, it will be more important to exploit additional potentials in the field of organic waste and residues from industry and municipalities. In the field of municipal bio-waste, the exploitation of additional potentials is in progress. The amount of municipal bio-waste that is available for digestion in biogas plants will increase considerably within the next years. Currently, a considerable trend to digestion of bio-waste and green waste, often integrated as so-called upstream systems into existing composting plants, can be assessed.
Methods
Twelve biogas plants were selected for the detection of plant-based emissions of methane (CH4), nitrous oxide (N2O), and ammonia (NH3). Based on the measured emission rates, GHG balances in compliance with the analysis of GHG credits (e.g., for biogas production, fertilizer, and humus effect of fermentation products and composts) were prepared. Thus, the electricity production and heat utilization of biogas as well as the credits of the various fermentation residues were analyzed to estimate the specific GHG performance of the investigated facilities. Finally, the measurements with respect to mitigation of GHG emissions were analyzed and described.
Results and discussion
GHG emissions
Various fermentation processes such as wet fermentation, dry fermentation, and batch fermentation were analyzed according to the emission situation. The results show that the emissions are dominated not by the kind of the fermentation process or the technology but by the manner of plant operation.
Figure
1
shows the measured emissions of CH
4
, N
2
O, and NH
3
(converted to carbon dioxide equivalents) of the investigated AD plants. The range of determined plant emissions varied between 40 and 320 kg CO
2
-eq per ton of bio-waste. The detailed presentation on the type of GHGs shows that the CH
4
emissions - except for plant no. 6 - dominate the indicated GHG equivalents of biogas facilities.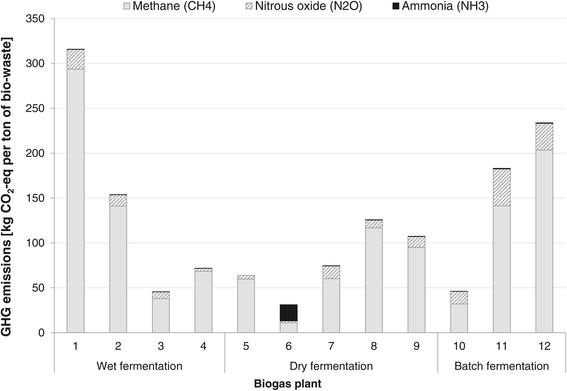 Important sources of GHG emissions were identified. The component-specific GHG emissions of the bio-waste digestion plants are presented in Figure
2
.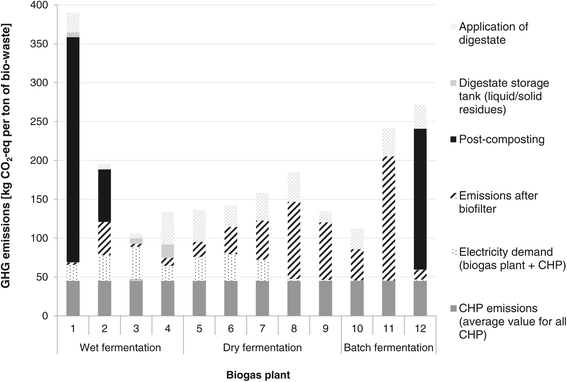 Especially, the inadequate aeration directly after fermentation (in order to interrupt the methanogenic activity) processes as well as unaerated or less aerated post-composting processes caused extremely high GHG emissions (see plant no. 1, no. 2, or no. 12). In case of some of the investigated biogas plants, the emissions of post-composting are summarized in the amount of 'emissions after bio-filter' (e.g., AD plant no. 10). The overall emissions of AD plant no. 10 was quite low because all parts of the fermentation and post-composting process were totally encapsulated.
Furthermore, AD plant no. 6 showed higher NH3 emissions due to the drying of digestate at higher temperature and higher pH value. In this case, the existing downstream acidic scrubber was out of operation during the measurements. The operation of the bio-filters can also be problematic; extremely wet bio-filters for example can cause additional CH4 production as observed at AD plant no. 8.
Finally, on almost all AD plants, emission sources were identified whose intensity can be reduced if the state-of-the-art treatment technology was used (e.g., acid scrubber before bio-filter, aeration of post-composting). The results show that the open storage of fermentation residues (with or without separation step) should be avoided. In addition to unaerated post-composting processes and open storage of active material (e.g., solid digestate), the CHP was one of the most important sources of CH4.
According to the measured residual gas potential of digestate, a wide range from 4 to 23% was determined. Ten of 12 samples of digestate of investigated AD plants showed a relative residual gas potential higher than 10%. A high relative residual gas potential means insufficient fermentation of the substrate. The residual gas potential of bio-waste digestion achieved the same range as agricultural AD plants which were operated as single-stage processes, whereas in comparison to agricultural biogas plants with multi-stage process, the determined CH
4
potential of fermentation residues from bio-waste digestion provides basically higher values. Table
4
shows the gas potential of the investigated bio-waste plants compared to the gas potential of agricultural biogas plants as published in [
17
]. According to [
17
] where agricultural AD plants were investigated, discontinuous systems (batch) and single-stage systems have shown the highest residual gas potential. Moreover, multi-stage systems of agricultural AD plants achieved less than half of the residual gas potential of single-stage plants [
17
]. The results of [
17
] stated that single-stage processes achieve higher residual gas potential due to their generally shorter retention time. With respect to the investigated bio-waste AD plants hydraulic retention times (HRTs) ranged from 1 to 4 weeks. However, due to a great variability of other process parameters, the results do not give a clear answer regarding the estimation that lower HRT corresponds to lower gas potential (see Tables
5
and
6
).
Table 4
Investigated AD plants differed to kind of digestate and considered GHG credits (marked with 'x')
Kind of digestate

Solid digestate

Liquid digestate

Substitution of mineral fertilizer

Substitution of peat

Humus accumulation

Humus reproduction

Substitution of mineral fertilizer

Humus reproduction

1

Fresh compost

x

-

x

x

-

-

2

Finished compost

x

x

x

x

-

-

3

Solid digestate (separated)

x

-

-

x

-

-

4

Liquid digestate

x

-

-

x

x

x

5

Separated digestate without post-composting

x

-

-

x

x

x

6a

Solid digestate

x

-

x

-

-

7

Fresh and finished compost

x

x

x

x

-

-

8

Fresh and finished compost

x

x

x

x

x

x

9b

Finished compost

x

x

x

x

x

x

10

Finished compost

x

x

x

x

-

-

11

Fresh and finished compost

x

x

x

x

-

-

12

Finished compost

x

x

x

x

-

-
Table 5
Residual gas potential in percent related to the methane production
Bio-waste AD plants 38°C

Agricultural AD plants 37°C

Single-stage

Multi-stage

Average

14.1

9.7

5.1

Min

3.6

3.2

1.2

Max

23.4

21.8

15
Table 6
Hydraulic retention time and residual gas potential of investigated AD plants
Plant no.

HRT in days a

Relative residual gas potential in percent b

Kind of fermentation c

Mode of operation

Separation of digestate

Minimum

Maximum

1

8

11

15

Wet

Multi-stage

Yes

2

20

19

19

Wet

Multi-stage

Yes

3

17

-

-

Wet

Single-stage

No

4

25

-

-

Wet

Multi-stage

No

5

25

-

-

Dry

Single-stage

Yes

6

21

15

21

Dry

Single-stage

No

7

28

4

11

Dry

Single-stage

No

8

14

23

23

Dry

Single-stage

No

9

21

17

17

Dry

Single-stage

No

10

28

12

17

Batch

Single-stage

No

11

21

-

-

Batch

Single-stage

No

12

21

6

6

Batch

Single-stage

No
GHG balances
The overall GHG balance of the investigated AD plants depends on the measured GHG emissions on the one hand (see '
GHG emissions
') and on the credits for the generated products (e.g., combined heat and electricity from biogas; fertilizer and humus supply from fermentation residues) on the other hand. The calculated GHG credits according to the AD plant concept are presented in Figure
3
.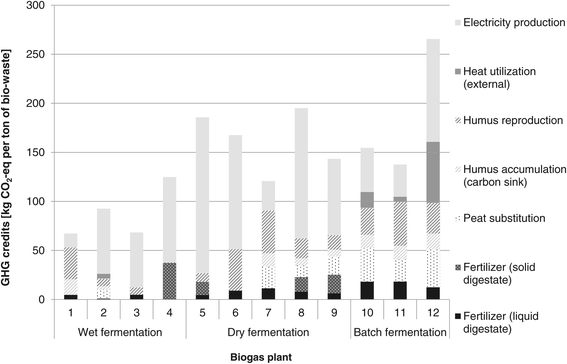 Finally, the highest amount of GHG credits of humus reproduction can be expected from composted digestate. In general, the following order of humus reproduction can be assumed: post-composted digestate (finished and fresh compost) > solid digestate > liquid digestate. In case of finished compost, additional GHG credits for the substitution of peat (by application in soil producing facilities, e.g.) can be considered.
If external heat (generated by the electricity production of CHP unit) is utilized, credits for avoided fossil heat production optimize the GHG balances as well (see plant no. 12). Nevertheless, in most cases (besides plants nos. 1, 7, 10, and 11), the credit for the electricity production based on biogas which was given for the substitution of fossil fuels dominates the GHG credits.
The total range of GHG balances (including credits) varied between −49 and 323 kg CO
2
-eq per ton of bio-waste due to different plant concepts and measured emissions (see Figure
4
).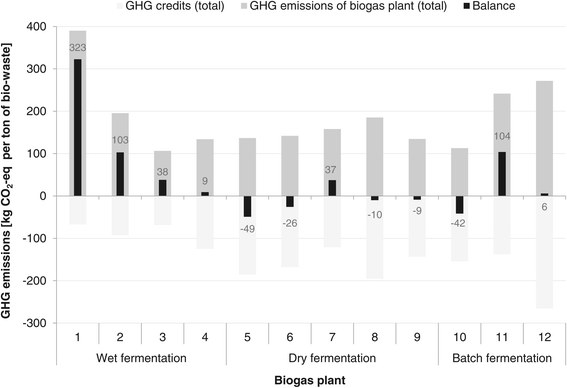 Moreover, the emissions of each component have been set in relation to the amount of produced electricity in order to get an emission value according to the energy output (g CH4/kWhel). Compared to an assumed electricity mix in Germany (559 g CO2-eq per kWhel according to [20]), 8 of 12 AD plants show even lower values.
Overall discussion of results gained in this study
The problem of increased emissions is not the anaerobic process itself, but a non-optimal after-treatment of the digestate. In general, the emission situation is not uniform; the plants show very different emission rates. The total emissions from AD plants no. 3, no. 6, and no. 10 were quite lower than the remaining. However, even those plants showed considerable potential for optimization. The best overall result of the analyzed AD plants belonged to a biogas facility with no external heat utilization and below-average credits for digestate. It can be stated that all investigated biogas facilities showed potential for optimization. Often, there are no incentives for a sufficient utilization of waste with respect to high CH4 yields or reduction of emissions, due to the fact that the running costs of waste facilities has to be financed by the producers of the waste paying for the waste disposal. Moreover, there are no strict regulations to avoid uncontrolled emissions as for agricultural biogas plants for energy crops and for co-digestion of waste. Therefore, waste treatment plants show relevant potentials for optimization.
AD plant no. 12 showed that very high emissions can be covered by a very good energy concept combined with a good utilization of fermentation residues. The bad overall GHG balance of AD plant no. 1 evidences how certain factors may interact the GHG performance negatively. In this case, extremely high emissions occurring from the post-composting process and very low electricity generation caused high GHG emissions in total. Inadequate digestion of the substrate caused not only low gas production, respectively, electricity generation but also high emissions during the post-composting process of digestate.
Regarding the GHG credits, the highest importance of an efficient fermentation had the production of energy. A high share of electricity generation led to high GHG credits. As far as the utilization of exhaust heat of electricity production was possible, it had also a positive influence on the GHG performance of the AD plant. Moreover, the use of digestate showed positive effects on the GHG balances. In addition to the nutrient effect through the utilization of the fermentation residues as a fertilizer (substitution of mineral fertilizer), GHG emissions can be saved due to the humus effect of digestate. Especially, composted digestate like fresh and finished compost contributed to the humus accumulation (carbon sink) and the humus reproduction of digestate. Compared to the production of fresh or finished compost digestate without post-composting process, which is used within the agriculture directly, less GHG credits were given. However, the risk of high emissions during the post-treatment of the fermentation residues was avoided.
The following measures are able to reduce GHG emission of bio-waste digestion: intensive aeration of the (solid) digestate after fermentation; gas-tight storage tank for fermentation residue and integration into biogas utilization; avoidance of any open storage of digestate and fermentation residues; and small, aerated compost windrows combined with sufficient structural materials and frequent turnover as well as the use of acidic scrubbers in front of the bio-filter.
With respect to the development of methodology of emission measurements and the standardization of procedure for the determination of emissions on biogas plants, further investigations are necessary. Further scientific data about the current emission situation and the ongoing development as well as reliable measurement methods are required to determine the CH4 emissions from the plants in operation today. In this regard, the reliable measurement of stationary and diffuse emission sources is of high importance. Uncertain are the emissions sources that are not coupled to the gas system of the plant, but still cause GHG emissions as stated in [10]. As one example, no assessment of emissions from pressure relief valves could be carried out as part of this study. Concerning the emissions, the treatment and evaluation of temporary occurring emissions caused by certain operational conditions are still unclear. Moreover, the further development of ecological assessment of biogas pathways with respect to the humus effects of digestate in comparison to other pathways is of great importance.
Conclusions
Based on the emission measurements, significant sources of emissions were identified. The results show that GHG emissions can be minimized, if the technology and operation of the plant are adjusted accordingly. Basically, the kind of operation of the plant and the handling of digestate determine the amount of GHG emissions. The overall GHG balances of the investigated AD plants depend on the measured emissions as well as the amount of credits for the generated products (e.g., combined heat and electricity from biogas; fertilizer and humus effects from fermentation residues). The consideration of GHG credits can optimize the overall GHG performance of the biogas facilities.
Abbreviations
AD:

anaerobic digestion
C:

carbon
CHP:

combined heat and power unit
CH4 :

methane
CO2 :

carbon dioxide
CO2-eq:

carbon dioxide equivalent
Corg:

organic carbon
GHG:

greenhouse gas
GWP:

global warming potential
K2O:

potassium oxide
kWel :

kilowatt (electrical)
kWhel :

kilowatt hours (electrical)
kWhth :

kilowatt hours (thermical)
N:

nitrogen
NH3 :

ammonia
No.:

number
N2O:

nitrous oxide
STP:

standard temperature pressure
t:

metric ton
Declarations
Acknowledgements
The DBFZ investigated the emission situation of biogas plants based on bio-waste in Germany within a research project in cooperation with gewitra mbH and Dr. Reinhold & Kollegen during 2009 to 2012. Gewitra mbH led the measurements on AD plants and post-composting processes. Dr. Reinhold & Kollegen Potsdam was involved into evaluation of humus effects of digestate at investigated AD plants in strong cooperation with our colleague Dr. Walter Stinner. The authors would like to thank Dr. Carsten Cuhls, Birte Mähl, and Dr. Jürgen Reinhold for their cooperation as project partners as well as the German Federal Ministry for the Environment, Nature Conservation, and Nuclear Safety for the financial support of this project.
Dedication
This publication is dedicated to Prof. Andreas Zehnsdorf on the occasion of his 50th birthday.
Authors' Affiliations
(1)
Department Biochemical Conversion, DBFZ Deutsches Biomasseforschungszentrum gGmbH, Leipzig, Germany
Copyright
© Daniel-Gromke et al.; licensee Springer. 2015
This is an Open Access article distributed under the terms of the Creative Commons Attribution License (http://creativecommons.org/licenses/by/4.0), which permits unrestricted use, distribution, and reproduction in any medium, provided the original work is properly credited.