Original article

Open Access
Development of methods and practices of virtual reality as a tool for participatory urban planning: a case study of Vilnius City as an example for improving environmental, social and energy sustainability
Energy, Sustainability and Society
2014
4:7
Received: 11 September 2013
Accepted: 19 March 2014
Published: 17 April 2014
Abstract
Background
Multiple channels of sustainable urban development could be managed in the process of an inter-disciplinary cooperation and creative involvement of all stakeholders. The paper aims to verify how the specific methods of virtual reality simulation could be used as an effective tool for setting an efficient participation platform between the stakeholders to improve environmental, social and energy sustainability of urban development in modern cities. The paper is based on the case study of Vilnius City.
Methods
The article shows how innovative tools could facilitate better cooperation based on more balanced approaches in participatory urban planning by chronological review of traditional public involvement practices and structured analysis of emerging public participation techniques. As each discipline involved in sustainable urban development covers specific socio-economic, environmental, economic and creative competence fields, it is essential to develop a comprehensive tool for public participation that is well accessible, reliable and efficient.
Results
The provided analysis of research theories and practical applications of public involvement through virtual simulation in the case of Vilnius City shows that virtual reality and spatial modelling integrated on gaming platforms under the conditions of widespread information and communications technology (ICT) applications could be developed and used as an innovative, involving and efficient tool for facilitating wider and more effective public involvement in the planning and design of urban environment and so increase social and environmental sustainability of urban development process. The application of this method for planning public spaces leads to more efficient use of environmental resources also reducing the need for primary energy and using it more rationally.
Conclusions
The analysis of using virtual urban simulation (VUS) method for representing, analysing, referring and improving urban design projects reveals that virtual applications can make public participation more accessible for citizens of the community and improve reliability of its results thus having direct impact on the planning process and its outcomes in terms of more sustainable impact on environmental and economic development of urban community.
Keywords
Urban planningLandscapeVirtual realityPublic participationStakeholder involvement
Tell me, I forget,
Show me, I remember,
Involve me, I understand,
Step back, I will act.
Old Chinese proverb
Background
Emerging public participation
The public initiatives that emerged in the early 70s in the UK and other European countries are good cases to analyse and illustrate how public participation gradually turned into an instrument of urban planning and design as we understand and use it today. The post-war policy of rebuilding the ruined blocks in big British cities turned into the method of urban renewal when the entire residential areas were pulled down on the reason of low sanitary quality and the goal of rising living standards. In reality, this brought demolition of old development in Birmingham, Manchester, Glasgow and other cities. That process of 'improving' was additionally fuelled by rising income of urban councils as a result of relatively dynamic economic development [
1
]. Several drawbacks of this urban policy were fast to appear. On the one hand, valuable urban legacy was destroyed; the entire urban communities with specific lifestyles and cosy neighbourhoods were completely erased. On the other hand, the modernist style of concrete blocks that appeared on their former land sites were sold fast but appeared to be disgusting to live in and were abandoned in a short term by their residents turning the whole areas into urban deserts. Last but not least, complete rebuilding was a very costly venture compared to gradual refurbishment of existing stock. The process of protests of local residents was fast to appear, and it was professionally supported by architects (Figure
1
). In Manchester, an architect Rod Hackney and his neighbours established a Black Road Area Action Group to protect historic residences from demolition and went into a massively supported campaign of debates with the city council called 'Save my house' in 1972.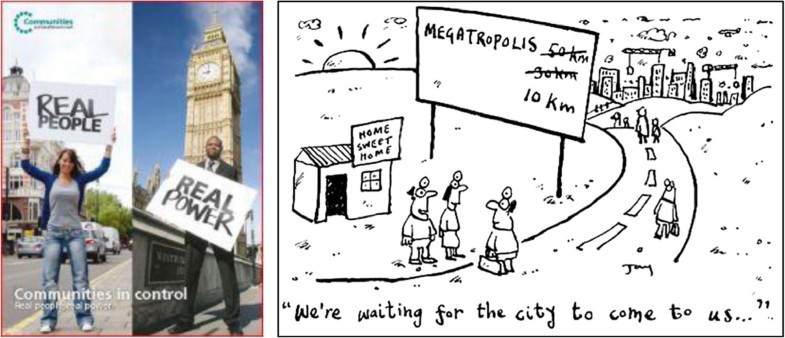 The success of a particular case in Manchester turned into a precedent for the whole country that led to wider discussions on the issues of urban redevelopment between the residents and the councils. The case of hearing local residents and then setting the refurbishment strategies was finally formalised and included into the UK's housing law. Still, efficient methods of communication between the clerks, the public and the business were to be developed. In Europe, many countries have gone through a similar process like in the UK in approximately the same decade. As a matter of fact, modern public participation methods were not used in East European countries until the last decade of the twentieth century for evident socio-political reasons. Finally, regulations on public involvement found their stake in national construction law mostly following the examples of other West European countries. In general perspective, public participation facilitates decisions on more rational planning and design thus saving material and social resources including urban land, materials, labour and energy.
Methods
The paper is designed as a set of analysed practices and case studies with public participation in planning. Techniques and potentials of spatial modelling and virtual representation are reviewed and analysed. The research starts by presenting the development of techniques in virtual representation and turning them into a planning tool. Virtual simulation in gaming environment is analysed by presenting several case studies including the one developed by the author of this paper. By comparing different tools and methods used for public participation, their strengths and weaknesses are identified. By comparative analysis, passive, active and interactive public participation methods are structured in the aspect of their interactivity. As a conclusion, the recommendations are drawn on how to apply and replicate innovative information and communications technology (ICT)-based public participation tools for better results in urban development.
Results and discussion
The periods of development in public participation illustrate close relations between the historical development of urbanism and growth of civil society. Rapid urbanisation processes brought more people to cities where urban communities with specific lifestyle were developed, and the way how their residential areas were planned and designed gradually became part of social capital with informal rules and traditions of communication, space maintenance, safety and security. In order to keep and grow this value, the built environment of urban communities should be treated very sensitively during the redevelopment or refurbishment phases thus avoiding radical transformations and demolitions. Public participation is the link that provides planning organisers with the information from real living communities allowing to verify and eventually improve the design based on feedback information.
Even though there is a wide range of participation in planning tools and methods established in building legislation and used in planning practice, still there is little experience and research on the application of innovative and emerging public participation techniques, especially with the application of ICT possibilities. Researchers focus on general aspects of evaluation of 'serious games', on hazard recognition [
18
], environmental [
19
] and infrastructure spatial planning [
20
] and other related issues. Traditionally, the set of passive and relatively active methods and techniques prevail in different countries (Table
1
). The direct interaction between the planning organiser and the participant in such meetings and committees has relatively low representativeness and reliability, as the events are usually dominated by the most active representatives of communities which usually have strong impact on the feedback from other residents. Usually, the opinions of residents are delivered in an indirect way, as participating activists try to express the opinion of other people who are absent at the taken moment. In this way, the process often has doubtful reliability and low representativeness in respect of users of the planning area. Moreover, the opinions of some groups of population as children, youth or people with disabilities have a rare chance to be heard and minded. In this context, the emerging interactive participation tools as listed in Table
4
are expected to close the mentioned gaps and make the public participation process more complete and its results more reliable and transparent for sustainable urbanism.
Table 4
Methods of reality representation for stakeholder involvement and public participation
| Method | Traditional | Modern | Emerging |
| --- | --- | --- | --- |
| Graphical | Drawing, drafting, painting | CAD linear drawing | Virtual reality simulation |
| Spatial | Building hard models, photography | Three-dimensional modelling, model rendering | Gaming, virtual role play, virtual cities |
By analysing the methods of public participation, one can notice that each of them has strong sides and weak points; on the other hand, each of them activates a specific area in the community and checks the plan at a special angle. This takes us to an important finding that different tools of public participation should be used in complex by combining methods that are appropriate to the taken case and could give the best available results. To avoid duplication, the most fit-for-purpose methods have to be selected minding cultural, ethical, technical, social, and the other features both in the community and in the project.
In the situation when ICTs are more and more becoming a daily use feature, it is natural to involve them as one of the important tools to be used in public participation. Analysis of recent participation practices demonstrate that ICT-based tools can attract the groups of population that often fall out from the group of participants and give them a modern easily accessible tool using technologies and devices that are already at their disposal. At the very beginning, it should be clear about the strong features and the limitations of this tool as VUS or similar. Virtual reality is not a substitute to the real face-to-face interaction of citizens; it is a supportive tool with several very strong and efficient features as listed in this paper (efficiency, transparency, accessibility and resource consumption) that was missing among traditional instruments of public participation. ICT tools allow creating a multi-layer stakeholder platform that is an essential feature of planning job. Allowing the public into this circle makes the group more complete, and by ICT tools - more powerful in the decisions and the results.
It is essential to have proper software and technical support for the development of this kind of ICT-supported systems. The main dilemma in this phase is finding the best compromise between the systems that are most effective for space modelling on the one side and gaming process on the other. In the VUS case, Unity 3D was chosen as an efficient and comfortable gaming environment that opens wide opportunities in model building and optimisation. Usual drafting, modelling and rendering techniques could be used for the initial phases of the process, later converting the files to a programme supporting virtual gaming. It is essential to keep in order the GIS background and environment so as to get direct references to land sites and buildings in real urban locations.
By responding to the goals of transparency, immediacy, direct access, permanence and follow-up, VUS extends the methods of public participation and introduces a modern, efficient and reliable tool. Essentially, VUS is a new word in the development of interactive and interdisciplinary cooperation platform for public participation that is essential for efficient and effective urban planning and design as foreseen by Agenda 21 and the Aarhus convention in 1998 [21].
Conclusions
The presented VUS methodology is developed as an innovative tool to help Vilnius City Municipality, on small scale, to examine in an interactive way to what extent the project of Missionaries Park meets the interests of local and all the city's community. The latter will be given an opportunity to get acquainted with the project and report its opinions about all features of the project. Moreover, the method allows checking the planned facility on public attractiveness, functionality, safety and security and, if needed, making the necessary improvements. Lastly, the system enables local authority to establish a contact with potential event organisers and other small businesses in order to shape the park as a space fit for different types of public events that will also be an important feature for economic viability of the place. All together, it leads to more rational use of social and material resources as human labour, urban land, natural and construction materials, and energy.
As permanence and monitoring are important features of planning and design, VUS opens perfect possibilities to monitor the process of planning, construction and maintenance as it could be repeatedly used to indicate the preferred modifications while the facility is in use. There are many other possibilities how the VUS tool could deviate once taken into regular practice by local authorities, communities, businesses and moderated by researchers. Numerous lines of research are open to further development and investigation of specific features of melting public participation with virtual imaging and gaming. As the on-going VUS project already revealed, gaming feature is extremely attractive and involving an environment that could facilitate wider involvement of residents into public participation activities compared to traditional techniques. Interdisciplinary teams of researchers and practitioners are needed to creatively apply the knowledge from the fields of planning and architecture, urban sociology and anthropology, environmental science, ICT and related themes in order to increase the quality of plans and make the implementations more sustainable for the citizens and the environment in the process of construction, use and maintenance.
VUS as an interaction platform can drastically change the design, evaluation, teamwork and participation in planning and design and bring more sustainability instead of hierarchy to the process. VUS application has a high technology edge when the urban space is planned and designed. High visual quality of VUS models is essential to bring realistic familiarity with the realistic landscape image to seriously motivate and involve the user. Finally, the broader questions arise: whether new planning and interaction tools give too much control to the public over their decisions about the future of spaces and buildings usually planned and designed by urban planners and architects. The answers lie in the balanced socio-economic understanding of the roles and missions of architects and the public.
Looking forward, public participation could and should become a trendy exercise to be used actively; joining in ICT technologies is the way to its wider application. Popular and widely used tool would extend the number of users and make it more popular among the groups of young population rarely engaged in ordinary hearings, meetings and committees. In the long run, ICT-based public participation would transfer as a specific application to social media and offer plenty of easily accessible information and effective tools under moderate resource.
Author's information
Gintaras Stauskis is a Doctor of the Humanities in Architecture and a professor at Vilnius Gediminas Technical University (Lithuania). He is conducting academic training and research activities at the Department of Urban Design, Traku str. 1, Vilnius LT-01332, Lithuania. He is involved in the European Union research programmes on Green Building and sustainable urbanism. He is the Head of Lithuania Green Building Council LTGBC and a member of the editorial board of the Journal of Civil Engineering and Architecture (USA), Landscape Architecture and Art (Latvia) and Arhitektura un Pilsetplanošana (Latvia). His current research fields include landscape architecture and planning, 'green' urban architecture and mobility, accessibility of environment, recreation and urban health. His research results have been presented in numerous national and international publications and conferences.
Authors' Affiliations
(1)
Vilnius Gediminas Technical University, Vilnius, Lithuania
Copyright
© Stauskis; licensee Springer. 2014
This article is published under license to BioMed Central Ltd. This is an open access article distributed under the terms of the Creative Commons Attribution License (http://creativecommons.org/licenses/by/2.0), which permits unrestricted use, distribution, and reproduction in any medium, provided the original work is properly cited.