Original article

Open Access
Design of local roadway infrastructure to service sustainable energy facilities
Energy, Sustainability and Society
2014
4:14
Received: 16 December 2013
Accepted: 10 April 2014
Published: 26 June 2014
Abstract
Background
This paper aims to identify specific local roadway infrastructure design guidelines associated with the construction and operation of sustainable energy source facilities, such as ethanol plants, biomass plants, and wind farm facilities.
Methods
Data associated with sustainable energy facility traffic in Indiana were collected to develop Excel-based tools (worksheets) and assist local agencies in the design of pavements in the proximity of ethanol plants, biomass plants, and wind farms.
Results
To that end, a simple procedure is presented, which provides a design capable of withstanding heavy traffic loads, while, at the same time, quantifies the effects that new sustainable energy source facilities may have on local road networks. The procedure is accompanied by two MS Excel-based software tools that can be used in the design of local roads adjacent to such sustainable energy facilities.
Conclusions
The developed worksheets can serve as a hands-on tool to assist local government engineers in evaluating and in quantifying the probable effects of the construction and operation of a sustainable energy facility in their jurisdiction.
Keywords
Sustainable energy facilities
Ethanol plant
Biomass plant
Wind farm
Roadway infrastructure
Background
Renewable, sustainable energy sources are being developed at a record pace throughout the USA and globally, with multidimensional benefits, as they have the potential to boost local economies and generate new jobs [1–20]. In Indiana, energy corporations have invested in three main types of sustainable energy sources, namely, ethanol, wind, and biomass energy, and have built numerous wind farms and ethanol and biomass plants. It is expected that the number of plants and wind farms will triple by 2022 [21]. Increased loads, increased traffic, or both can negatively affect road networks (with respect to the existing infrastructures, the environment, the aesthetics of the local communities, and the safety of the neighboring residents) when sustainable energy projects are introduced into a community [22–28]. Wind farm construction increases the loads on roads leading to and from the wind farm during turbine construction, but once the turbines have been constructed, there is nearly no increase in traffic [26, 27]. Conversely, when a fixed-point energy source that must be serviced by trucks is constructed, such as an ethanol or biomass plant, it results in additional traffic, and on many occasions, increased loads [22–25]. While it may be possible to mitigate these effects by the use of barge or rail [29], at some point, the road network will need to be used to move the turbine components, or the biomass or ethanol products.
In Indiana, ethanol plants, biomass power plants, and wind farms are typically built in rural areas. Most local road networks were not designed or constructed to accommodate the increased traffic and loads produced by such facilities. When sustainable energy developers decide to locate facilities within a given governmental entity, local officials need to have a sound understanding of the proposed facilities' probable effects on their local road network and some methods to quantify those effects. The local highway engineers and supervisors also need to be familiar with the resulting traffic and load problems associated with these facilities and be in a position to make decisions as to which pavement structure is needed to bear such heavy loads and traffic near the facilities.
Previous research in biomass and ethanol usage has pointed out the importance of designing access roads or considering the capacity of access roads to the plant [30, 31]. However, the existing literature, to the authors' knowledge, does not illustrate how loads can be calculated or access roads be designed for these facilities. Furthermore, research that has focused on wind farm technology suggests that local roads should handle the heavy construction loads from the wind mill parts [32–36]. On one hand, the focus has been on detailed design methodologies aiming to handle these loads, while on the other hand, guidelines to develop temporary access roads for wind farms were also presented [37].
As illustrated herein, the aforementioned design problems are solved using existing design guides, such as the American Association of State Highway and Transportation Officials (AASHTO) method. However, such methods may often be intricate, which would inevitably require consultation with expert designers. Even though third-party expert consultation is welcome, local authorities generally do not have the necessary funds for this process.
This paper aims to develop tools that can be used by local government agencies in quantifying the effects of proposed sustainable energy projects on their local road networks. The tools are designed and developed, bearing in mind that local agencies do not typically employ personnel with specific expertise in pavement analysis and design. These tools are therefore expected to assist local agency personnel in determining appropriate pavement sections and quantifying their costs. The paper is organized as follows. First, background information on renewable energy resources is given, along with biofuel transportation practices. Next, the method and data are presented, followed by the design development description of the proposed tool. Finally, the tool validation results are discussed.
The contribution of this paper lies in the development of local roadway infrastructure design guidelines associated with the construction and operation of sustainable energy source facilities, such as ethanol plants, biomass plants, and wind farm facilities. The proposed procedure is designed to be simple and is accompanied by hands-on tools to assist local government engineers in evaluating and in quantifying the probable effects of the construction and operation of a sustainable energy facility in their jurisdiction. Therefore, the procedure is anticipated to provide designs capable of withstanding heavy traffic loads, while, at the same time, it has the potential to quantify the effects that new sustainable energy source facilities may have on local road networks.
Renewable energy resources
In order to better comprehend the local effects of the construction and operation of sustainable energy projects, such as ethanol, biodiesel, biomass, and wind energy, some background information is briefly presented. Ethanol can be produced from a number of agricultural products, such as sugar and starch [
38
]. The ethanol production process yields several byproducts, such as dried distillers grains with solubles (DDGS), which are a high-nutrient feed valued by the livestock industry [
39
]. Ethanol demand is difficult to capture, given its dual nature, i.e., being both an additive to and a substitute for gasoline. However, the market for ethanol significantly increased (over 500%) when flexible fuel vehicles (FFV) were made available to the public [
21
,
39
,
40
]. In Indiana, there are 11 ethanol plants, plus 2 under construction (see Figure
1
).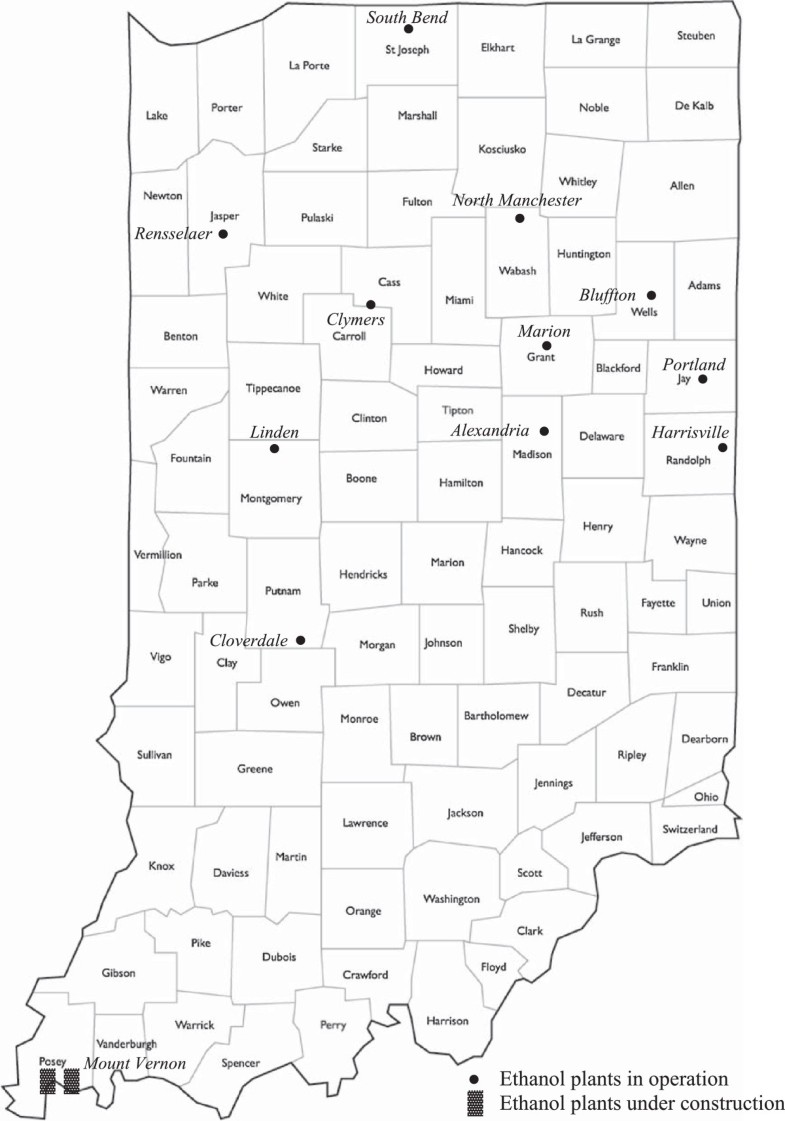 Biomass is a plant matter grown to generate electricity or produce heat, with agricultural waste being the most common type of solid biomass that can be used as a source of energy [41]. Biomass currently provides about 10% of the world's primary energy supplies, most being used in developing countries in the form of fuel wood or charcoal for heating and cooking [42, 43]. In the USA, 85% of the wood production industry waste is used for power generation, with approximately 80 operating biomass power plants (and 40 operable but idle plants) located in 19 states across the country [44]. Demand for power derived from biomass is generally increasing, having surpassed hydropower as the largest domestic source of renewable energy [45]. In Indiana, there is currently one biomass plant near Milltown in Crawford County [46].
The power of the wind can be harnessed and converted to electricity by the use of tower-mounted wind turbines. Wind turbines can be used to produce electricity for a single home or building, or they can be connected to an electricity grid for more widespread electricity distribution. Wind energy is not only 'green' but also cost effective when compared to other sources of electricity in the USA. The growing wind power market has attracted many energy corporations to the field [47, 48]. In the USA, not all regions have wind speeds that are high enough to support wind energy production [49]. However, a recent study showed that building wind farms on only 3% of the area of the USA will produce enough electricity to meet all US energy demands [50]. In Indiana, there are currently 18 wind farms in operation, with over a 1,500 MW of wind electricity-generating capacity [51]. Indiana has the potential to produce 150,000 MW of electricity from wind farms [51].
Transportation of biofuels
Biofuels can be transported by trucks, rail, or barge. Trucks are used when the material needs to be transported from one mode to another. Rail transportation is effective for long hauls, while barges are the least expensive transport method. Barges can carry large amounts to export terminals, and then ocean vessels are used to carry them to foreign markets. Transportation of biofuels using pipelines is limited in the USA due to the adverse impact of the former (mostly their chemical properties) on the pipeline integrity and safety. Also, pipelines are not largely available where biofuel plants are located. However, pipelines are a feasible option for the transportation of conventional fuel types. Air transport is not a viable option either, due to its high cost.
From a capacity standpoint, a truck can accommodate approximately 25,000 liters, a railcar approximately 95,000 liters, and a barge approximately 1,500,000 liters. On the other hand, it would not be economically effective to use rail or barges to transport biofuels to short distances, such as locations within less than 80-km distance from the facility [52]. In general, truck transportation is considered to be an efficient mode of transportation up to a distance of 500 km [52]. A railcar can transport the freight 2.5 times farther than a truck, for the same cost per liter, whereas barges can move freight across long distances and oversees (e.g., from the Midwest to the Gulf).
Rail is used to transport 41% of US corn exports and 14% of corn domestically [53]. In 2005, rail was the primary transportation mode for ethanol, shipping 60% of ethanol produced, or approximately 11 billion liters. In comparison, trucks shipped 30%, and barges 10%. Although trucks are used to ship most of the corn used by ethanol plants, some of the newer and larger plants use rail for inbound corn shipments [54].
Barges move approximately 5% to 10% of ethanol, in addition to the DDGS and fertilizers necessary for the production of corn. Barges also move 44% of all grain exports. In 2007, barges moved 55% of corn to ports, and 1% of corn to processors, feed lots, and dairies [54]. An issue with barge transportation is related to the occasional inadequacy of water depths that can lead to higher transportation costs. Seasonal effects on barge transportation may also decrease the barge's moving capacity (e.g., at a 2.75-m draft, if a barge has 1,500 tons of capacity, every 2.5 cm of reduced draft will result in 17 tons of reduced capacity) [53].
In the Midwest, inbound corn being delivered to the processing facility is most typically delivered by trucks from corn farms within an 80-km radius. Standard gasoline tanker trucks (DOT MC 3066 Bulk Fuel Haulers) are typically used to ship ethanol outbound from the plants to the blending terminals. The total number of independently operated tank trucks is approximately 10,000, excluding the tanker truck fleets that are owned by petroleum companies [55].
Methods
The objective of this paper is to develop a design methodology to assist local agencies in designing suitable pavements for sustainable energy projects served by local roads. In order to ensure a reliable pavement design, the first step is to collect accurate data with respect to the operation and traffic generation of sustainable energy projects. Development of the design tools is completed based on the following criteria: the tools should (a) be simple and easy to use; (b) require minimum input from the user and, at the same time, allow for more experienced users to input more detailed data; and (c) be able to produce several alternative pavement sections, when applicable. The output of the study involves worksheet-based pavement design procedures, one for ethanol and biomass plants, and a second for wind farms. These tools offer a user-friendly interface and several levels of input regardless of the expertise of the user.
The design development phase is based on various design guides and design elements that have been proven useful in the design of specialized pavements for sustainable energy projects. The design guides considered are the AASHTO Pavement Design Guide (for flexible and rigid pavements and for low-volume road design), the Asphalt Institute Pavement Design Guide, the Mechanistic-Empirical Pavement Design Guide (MEPDG), and the Portland Cement Association (PCA) [56–59]. Reviewing of these sources shows that rigid pavement design is not typically used in the design of local low-volume roads. Thus, the AASHTO Rigid Pavement Design Guide and the PCA Pavement Design were not utilized in the proposed overall design methodology. The MEPDG was found to be complex and was not geared toward low-volume roads and was therefore not used either. The AASHTO flexible pavement design was utilized due to its simplicity, versatility, and robustness. The AASHTO low-volume road design was also utilized in the ethanol and biomass worksheet. As for the wind farm worksheet, the Asphalt Institute's Manual Series No. 23 (MS-23), 'Thickness Design: Asphalt Pavements for Heavy Wheel Loads' was the only design guide that addressed the large, one-time loads expected during the construction of wind farm facilities [60].
As a final step, the proposed design methodology is tested to ensure that it produces realistic results. Ideally, the proposed design methodology would be validated by building a road conforming to the design methodology, then monitor it over several years, and determine whether it fails prematurely. Obviously, this falls out of the scope of the current study. Instead, the proposed methodology is validated by comparing it to in-service designs currently servicing sustainable energy projects. If the simplified proposed design provides an output that falls close to the outputs of the designs in place, the proposed design is considered adequate. This, of course, does not guarantee an optimum design; it suggests, though, that the developed designs are approximating actual design results.
Interviews with local officials
As part of the data collection process, interviews were conducted with Indiana's local road agency representatives in counties where biomass plants, ethanol plants, or wind farm facilities are located. The interviews entailed a set of questions about the provided provisions in anticipation of the increased traffic and the current condition of the road network. To that end, 12 counties that have ethanol and biomass plants were interviewed. Of those 12, only 4 had performed any type of upgrade to their local roads in anticipation of increased traffic. Table
1
summarizes the representatives' responses.
Table 1
Summary of local agency survey responses
| County | Is the plant operational? | General response | Upgrades performed |
| --- | --- | --- | --- |
| Cass | Yes | No response | Unsure |
| Grant | No | No upgrades were performed on county roads. The nearest state highway was widened to accommodate the large-radius turning paths of long trucks. The plant does not have a county access road. | No |
| Henry | Yes | The plant is located right adjacent to a state highway; thus, there was no need for any upgrades. However, roads are deteriorating quickly, and there is no funding from the state or other sources. | No |
| Jasper | Yes | No provisions were needed because the plant is located adjacent to a state highway. | No |
| Jay | Yes | Upgrades were performed on county roads. The plant created a tax increment financing (TIF) district, and the new roads were paid for using the money from the bonds sold. Upgrades included widening and resurfacing of a section of a county road. The main problem is that truck drivers do not always use that route; thus, other roadways may deteriorate. | Yes |
| Kosciusko | Yes | The Highway supervisor expressed concern about the highways. Attempts were made to get funds to perform repairs. No legal agreement between the plant and the county was made | No |
| Lake | No | No response | No |
| LaPorte | No | No response | No |
| Madison | Yes | No response | Unsure |
| Montgomery | Yes | No response | No |
| Posey | Yes | There are two plants; one is adjacent to a state highway, the other is not. The latter required road upgrades. The upgrades were paid for through setting up a TIF district. Also, there were two low-volume roads that the plant wanted to build a bridge over. The county engineers were able to reach to an agreement with the commissioners to close these two roads, saving the expense of building an overpass. In return, the county received one million dollars which they used to repair and upgrade highways. The upgrades included mainly 5 to 7.5 cm of resurfacing on access roads. | Yes |
| Putnam | No | No response | No |
| Randolph | Yes | The plant built a private access road to a county road that was partly upgraded. The county is currently working on an agreement with the plant to upgrade the roads used by farmers. | Yes |
| Shelby | Yes | No response | Unsure |
| Wabash | Yes | The county established a TIF district in the area to be developed. The county performed road upgrades which included digging up the existing pavement, placing a 33- to 38-cm Portland cement-stabilized soil and HMA on top. The project cost was $1.2 million. The county was later reimbursed by the plant (as agreed before the start of the project by selling TIF district bonds). The county also received an economic development stimulus from the state of Indiana. | Yes |
| Wells | Yes | There were no upgrades performed. However, there were discussions at the time of construction that the plant had a budget set for upgrading the roadway. Due to technical difficulties on the county/city side, the roads were not upgraded. The plant did not spend any of the allocated budget. The county engineers tried to mitigate the damage by channelizing the truck traffic produced by the plant onto roadways that could accommodate the traffic. The county engineers provided this channelization through verbal coordination with truck companies and drivers. The highway supervisor stated that the truck companies were very cooperative. | No |
Traffic associated with ethanol and biomass plants can be classified as follows: (a) incoming traffic handling raw materials and (b) outgoing traffic handling product distribution. Incoming traffic is mainly composed of trucks, while outgoing traffic is composed of rail and truck traffic, in most cases. For this reason, plants are typically located near major highways and rail sites. In Indiana, all plants are located within 4 km from the nearest state highway or interstate and within 1.1 km from the nearest rail freight facility. Of all the plants, 85% are located within 1.6 km of a state highway. Of all operating ethanol and biomass plants in Indiana, 30% are located adjacent to a main highway, whereas 23% of all operating ethanol and biomass plants in Indiana have rail tracks leading into their facility. On average, the plants in Indiana are 0.87 km away from a state highway and 0.5 km from a railroad.
County officials and plant managers expected that all truck traffic would use the nearby state highways or interstates. Thus, no significant upgrades were performed on local roads. In many cases, the expectation that trucks would utilize the state highways or interstates was not validated. Truck drivers use the shortest route unless otherwise instructed, which may or may not be a state highway or interstate. Also, farmers delivering raw materials to the plant came from all directions. This entailed utilizing county roads.
Local county highway representatives were interviewed in several counties in Indiana, in which wind farms are located. In both cases, the wind farm developers signed a road use agreement with the county specifying that the developers are responsible for the road condition. The developers agreed to return the roadways used in the wind farm construction process to their original condition and further performed significant upgrades to the local roads. However, detailed information was only available from White County, which was used in the validation process.
Note that road use agreements typically include warranty clauses, which provide an assurance to the owner that the product/service will serve its useful life without failure, and if it does not, the contractor will repair or replace the product (for specifics on roadway preservation through public-private partnerships, see [61–69]). In the case of White County, a 2-year warranty was defined. Benton County defined a 1-year warranty on roads and a 5-year warranty on drainage.
Data
Biomass and ethanol plants
The amount of traffic associated with an ethanol plant is directly related to the plant's capacity, most often measured in millions of liters per year (MLY). Because the plants are normally located to take advantage of locally produced raw materials, in this case corn, nearly all of the incoming raw material is delivered to the plant by tractor-trailers. The outgoing products are ethanol and DDGS. In Indiana, nearly all of the ethanol leaves the plant by train. The DDGS may be transported by train or truck, depending on local livestock markets. Plant capacities, amount of raw materials consumed, and plant production rates for each of the ethanol plants in Indiana are summarized in Table
2
.
Table 2
Indiana ethanol plant data
| | County | Annual liters of ethanol produced (millions) | Annual bushels of corn used (millionsa) | Corn used per liter of ethanol produced (bushels) | Annual tons of DDGS produced (thousands) | Annual tons of DDGS produced per liters of ethanol produced (millions) |
| --- | --- | --- | --- | --- | --- | --- |
| Plant | | | | | | |
|  Anderson Ethanol | Cass | 416 | 39 | 0.0937 | 354 | 0.850 |
|  Cardinal Ethanol | Randolph | 379 | 37 | 0.0977 | 321 | 0.848 |
|  Central Indiana Ethanol | Grant | 151 | 15 | 0.0991 | 145 | 0.958 |
|  Indiana Bio-Energy | Wells | 416 | 37 | 0.0889 | 321 | 0.771 |
|  Iroquis Bio-Energy Company | Jasper | 151 | 15 | 0.0991 | 129 | 0.852 |
|  New Energy Corp. | St. Joseph | 379 | 37 | 0.0977 | 328 | 0.866 |
|  POET | Jay | 246 | 24 | 0.0975 | 193 | 0.784 |
|  POET | Madison | 227 | 22 | 0.0969 | 193 | 0.850 |
|  POET | Wabash | 246 | 24 | 0.0975 | 209 | 0.849 |
|  Valero Energy (formerly Vera-Sun) | Montgomery | 379 | 37 | 0.0977 | 350 | 0.925 |
|  Altra (not operating) | Putnam | 227 | 22 | 0.0969 | 192 | 0.845 |
|  Abengoa Bioenergy | Posey | 333 | 32 | 0.0961 | 282 | 0.847 |
| Total | | 3,551 | 341 | 1.16 | 3,017 | 10.25 |
| Average | | 296 | 28 | 0.10 | 251 | 0.85 |
The amount of raw material consumed by a biomass plant is governed by the plant's capacity, the amount of electricity it can produce, and the plant's efficiency. Capacity is measured in megawatt electrical (MWe), while efficiency by the heat production rate is measured in watts per kilowatt-hour (W/KWh). Each material, when burned, produces a specific amount of heat energy measured in watts per kilogram (W/kg). Herein, a constant value of 2,746 W/kg for all agricultural byproducts is adopted from Wiltsee [70]. The average heat rate of 140 biomass plants listed in the National Electric Energy System Database [71] was also used, which was calculated to be 4,462 W/KWh.
Unlike ethanol plants, biomass plants do not produce loaded, outgoing traffic. Raw materials are shipped to the plant and burned to generate electricity. The type of input materials varies and can be divided into four main types: woody plants, herbaceous plants/grasses, aquatic plants, and manures [
72
]. According to the local Indiana farmers, woody and herbaceous plants are the most commonly used raw materials in Indiana biomass plants, with the most typical being corn stover, wood chips, sawdust, and baled straw [
72
–
74
]. Each material has a different density, as shown in Table
3
. The less dense the material, the more space per kilogram it occupies; thus, more trucks are needed to transport less dense materials. This was taken into consideration when calculating loads associated with biomass plant operation.
Table 3
Biomass raw material densities
| Material | Density (kg/m3) |
| --- | --- |
| Corn stover | 128.15 |
| Wood chip | 200.23 |
| Sawdust | 120.14 |
| Baled straw | 150.57 |
Wind farms
The increased truck traffic associated with wind farm facilities is mostly limited to construction traffic, which can be divided into transportation of construction materials (concrete, aggregates, and steel reinforcing), transportation of construction equipment (cranes), and transportation of wind turbine components (nacelle, rotor, blades, and tower sections). The construction materials represent the heaviest loads per truck axle. The turbine components can be heavy, but additional axles are added to the truck trailer as needed so as to comply with axle weight limits. In most cases, the length of the turbine components is the most critical concern. Wind turbine components, such as blades and tower sections, are extremely long and require long trucks to haul them. Blades are typically 45 m in length and weigh 11,340 kg [
26
]. While the weight is distributed over a large number of axles, the challenge is making sure that trucks have sufficient turning radii when using local roads. Table
4
summarizes the weight and truck axles needed for various wind turbine components [
71
].
Table 4
Truck information for various wind turbine components
| Component | Weight (kg) | Longest dimension (m) | Minimum number of truck axles needed to carry component | Weight per axle (kg/axle) | Weight per tire (kg/tire) |
| --- | --- | --- | --- | --- | --- |
| Base section | 41,958 | 14.66 | 4 | 10,490 | 2,622 |
| Lower-middle section | 41,241 | 19.81 | 6 | 6,874 | 3,789 |
| Upper-middle section | 28,111 | 19.90 | 6 | 4,685 | 2,583 |
| Top section | 28,876 | 22.59 | 6 | 4,813 | 2,653 |
| Hub | 17,010 | 3.84 | 3 | 5,670 | 3,125 |
| Blades | 6,486 | 33.99 | 6 | 1,081 | 596 |
| Rotor | 32,024 | 70.47 | 6 | 5,337 | 2,942 |
| Nacelle | 57,153 | 8.81 | 3 | 19,051 | 10,500 |
The erection of wind turbines includes two major activities: off-loading and stacking out. Off-loading normally requires a 200-ton crawler or hydraulic crane. Stack-out requires a 400-ton crane [
75
]. Both cranes are transported in pieces and assembled on site. Table
5
summarizes the weight of each component and the number of truck axles required to carry it. Each crane is assembled in 20 to 25 truck trips, which are performed at least twice (assembling and disassembling) in the project lifetime, regardless of the number of wind turbines being built [
26
,
76
,
77
].
Equipment

200-ton crane

400-ton crane

Weight (kg)

Number of axles

Weight per tire (kg/tire)

Weight (kg)

Number of axles

Weight per tire (kg/tire)

Basic crane

39,689

4

2,480.58

39,612

4

2,475.76

Car-body and adapter

N/A

N/A

N/A

28,161

3

2,346.77

Crawler assembly

19,622

4

1,226.40

32,665

4

2,041.59

Counterweight tray

9,548

3

795.68

19,958

3

1,663.17

Upper-center counterweight

10,659

3

888.28

8,165

3

680.39

Upper-side counterweight

7,938

3

661.49

6,804

3

566.99

Lower car-body counterweight

9,979

3

831.59

13,608

3

1,133.98

Upper car-body counterweight

8,165

3

680.39

N/A

N/A

N/A

9 m boom butt

4,910

3

409.18

21,609

3

1,800.76

12 m boom top

2,544

3

212.02

5,595

3

466.25

3 m boom insert

971

3

80.89

N/A

N/A

N/A

6 m boom insert

1,397

3

116.42

2,563

3

213.57
As mentioned earlier, the heaviest load associated with wind farm construction is the construction materials. Wind tower foundations require 282 to 480 yd
3
of concrete and 20 to 38 tons of steel reinforcement [
75
]. Truck traffic is also generated by the need to transport aggregates to the site. Table
6
presents the number of trucks needed to construct the foundation of a single turbine and the weights of each construction material used [
23
]. Finally, data on local pavement construction materials were collected from local suppliers and used in the proposed design process. One of the design outputs is the cost of the recommended pavement. The specific gravity and cost data collected and utilized in the analyses are illustrated in Table
7
.
Table 6
Wind-tower foundation construction materials
| Construction material | No. of trucks required | Truck loads (kg) | Load per tire (kg) |
| --- | --- | --- | --- |
| Aggregate | 10 | 22,680 | 5,670 |
| Concrete | 20 to 40 | 22,680 | 5,670 |
| Steel | 1 | 18,144 | 4,536 |
Table 7
Pavement construction materials, specific gravities, and costs
| Material | Specific gravity | Density (kg/m3) | Tons/lane-km/cm | Price/ton/lane | Price/lane-km/cm |
| --- | --- | --- | --- | --- | --- |
| Hot mix asphalt | 2.65 | 2,643 | 106.66 | $90 | $9,599 |
| Compacted dense aggregate | 2.75 | 2,739 | 110.82 | $13 | $1,441 |
| Coarse aggregate | 2.45 | 2,435 | 98.83 | $9 | $889 |
| Excess excavation | | | | | $245 |
Conclusions
Data associated with sustainable energy facility traffic (such as number, type, and weight of trucks with or without cargo) were collected, to develop Excel-based tools (worksheets) and assist local agencies in the design of pavements in the proximity of ethanol plants, biomass plants, and wind farms. The worksheets provide a user-friendly environment for engineers with any level of expertise to produce a pavement design for the aforementioned facilities in an easy and timely fashion. Experienced designers have the option to change the default values of the worksheets in order to produce more cost-effective designs. Otherwise, the worksheets' default values can be maintained and still provide a conservative design.
From the comparison of the worksheet-generated designs and those practically implemented, it was found that the worksheet-proposed pavements were slightly thicker than the actual implemented designs, and thus less likely for the pavement to fail. This could reflect a need for collection of additional data points, or for further calibration of the tool through additional validation tasks. To that end, the as-built pavement sections will be revisited after 1- to 5-year intervals to assess their condition and further validate the worksheet tools.
The developed worksheets can serve as a hands-on tool to assist local government engineers in evaluating and quantifying the probable effects of the construction and operation of a sustainable energy facility in their jurisdiction. Further recommendations to assist in achieving this goal involve inclusion of biodiesel plants, further validation of the worksheets using measures of pavement distress (rutting or cracking), and comparison of the design outputs with actual data from constructed roads.
Abbreviations
AASHTO:

American Association of State Highway and Transportation Officials
AI:

Asphalt Institute
W/KWh:

watts per kilowatt-hour
CBR:

California bearing ratio
DDG:

dried distillers grains
DDGS:

dried distillers grains with solubles
ESAL:

equivalent single axle loads
FFV:

flexible fuel vehicles
FWD:

falling weight deflectometer
LEF:

load equivalency factor
MEPDG:

Mechanistic-Empirical Pavement Design Guide
MLY:

millions of liters per year
MR:

resilient modulus
MWe:

megawatts electrical
PCA:

Portland Cement Association
P o :

initial pavement serviceability
P t :

terminal serviceability index
R%:

reliability
SN:

structural number
TIF:

tax increment financing.
Declarations
Acknowledgements
The authors would like to thank Neal Carboneau and John Habermann for their useful comments. The contents of this paper reflect the views of the authors who are responsible for the facts and the accuracy of the information presented herein and do not necessarily reflect the official views or policies of the FHWA and INDOT nor do they constitute a standard, specification, or regulation.
Authors' Affiliations
(1)
School of Civil Engineering, Purdue University: Indiana Local Technical Assistance Program, West Lafayette, USA
(2)
Department of Civil, Structural and Environmental Engineering, Institute for Sustainable Transportation and Logistics, University at Buffalo, The State University of New York, Buffalo, USA
(3)
Bertsch-Frank & Associates, LLC, Fort Wayne, USA
Copyright
© AbdelWarith et al.; licensee Springer. 2014
This article is published under license to BioMed Central Ltd. This is an Open Access article distributed under the terms of the Creative Commons Attribution License (http://creativecommons.org/licenses/by/2.0), which permits unrestricted use, distribution, and reproduction in any medium, provided the original work is properly credited.