Original article

Open Access
Alternative fuels from forest residues for passenger cars - an assessment under German framework conditions
Energy, Sustainability and Society
2014
4:12
Received: 14 September 2013
Accepted: 8 April 2014
Published: 20 May 2014
Abstract
Background
Due to the available volumes, biogenic residues are a promising resource for renewable fuels for passenger cars to reduce greenhouse gas (GHG) emissions. In this study, we compare three fuels from forest residues under German framework conditions: biogenic electricity, substitute natural gas (SNG), and Fischer-Tropsch (FT) diesel.
Methods
Fuels from forest residues are compared with regard to their technical efficiency (here defined as 'pkm per kg biomass'), costs, and environmental impacts with a focus on GHG emissions. We took into consideration the real-life driving conditions and corresponding car classes as well as market penetration scenarios for electric and gaseous fuel cars.
Results
Our results show that the technical efficiency of biogenic electricity is high, while the economic and environmental results strongly depend on the car size and market penetration assumptions. Furthermore, it is essential to clearly define the main goal of introducing fuels from forest residues. If the goal is to reduce GHG emissions at the lowest cost, SNG (and natural gas) in bigger cars is preferable. For high GHG reductions at the lowest forest residue consumption, biogenic electricity in smaller commuter-type cars are found to be a good solution. This also proves true for the aggregated environmental impact score ReCiPe Total.
Conclusions
It is important to include mobility patterns and a clear goal definition when comparing biogenic fuels. In Germany, biogenic electricity, SNG, and FT diesel can reduce GHG emissions at reduction costs of around 100 €/t CO2-Eq when used the right way.
Keywords
Biogenic fuels
Passenger cars
Environmental impacts
Greenhouse gas emissions
Fuel life cycle
Car life cycle
Background
Conventional fuels for passenger cars originating from crude oil or natural gas, such as gasoline, diesel, and compressed natural gas (CNG) have several drawbacks. First, the greenhouse gas (GHG) emissions resulting from their combustion contribute to global warming; around ¼ of the GHG emissions in Europe are caused by the transport sector, including passenger cars[1]. Furthermore, crude oil and natural gas are not only finite resources but must also be imported. Facing these challenges, research is being undertaken to identify alternative fuels and to develop new engine technologies that can replace them as primary energy sources for passenger car fuels. One possibility to produce such alternative fuels is to use biogenic residues as an energy source. Among these, forest residues represent the largest biomass volume available for energy purposes[2].
In addition to the environmental effects, strategies to reduce GHG emissions in the long term must also consider technical and economic aspects. From a consumer's point of view, a new fuel/propulsion system will only be interesting if its driving parameters (acceleration, range, etc.) will be comparable to those of existing alternatives at a reasonable price. From a political point of view, it is also important to reach emission reductions at low costs. Without alternative fuels, substantial emission reductions will be hard to achieve for Germany.
We therefore assess the most efficient way to use fuels from forest residues for passenger cars under technical, economic, and environmental aspects for German framework conditions. These framework conditions include German and European legislation like the Renewable Energy Directive (2009/28/EC) as well as driving habits and economic situation. Three fuels are compared: biogenic electricity, substitute natural gas (SNG), and Fischer-Tropsch (FT) diesel. The three renewable fuels can replace their fossil equivalents (electricity, CNG, and diesel) without any modification of the propulsion technology of the car.
All fuels are compared to diesel as reference fuel to determine their technical and economic efficiency in reducing GHG emissions. Diesel is chosen as a reference because it has a high market share in Germany and generally has lower GHG emissions than gasoline[3].
We put an emphasis on driving patterns, car types, and driving cycles to establish realistic use cases for different car users.
Methods
This paper is based on a detailed model that integrates technical parameters, costs, GHG emissions, and other environmental impacts over the whole well-to-wheel chain and the car life cycle and allows the techno-economic and environmental assessment presented in Figure
1
to be performed. Subsections 'Fuel choice and system boundaries' to 'Cost-effectiveness analysis: GHG mitigation costs' explain the methods and their application in the presented model in more detail.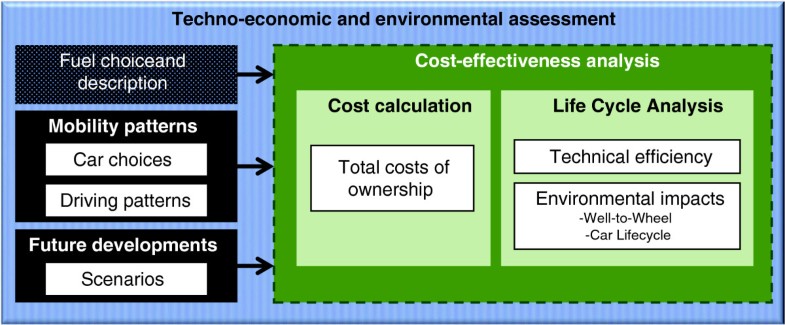 Results and discussion
The goal of this study was to assess the technical and economic efficiency of biogenic electricity, SNG, and FT diesel in reducing GHG emissions and other environmental impacts. The presented results all assume that each fuel-car combination replaces a diesel car.
Conclusions
When comparing the three fuels from forest residues, we showed that electric cars fuelled with biogenic electricity have a potential as commuter cars - both for cost-efficient GHG reduction and for most of the other environmental impacts. Precondition for this is a fast market penetration of electric cars in the next years so that economies of scales (as considered in this study) take effect. For bigger all-purpose cars, SNG seems very promising with the additional benefits of being on the verge of commercial availability, and it may be commercially attractive in relatively small plants, in contrast to FT diesel. If GHG reductions are valued at less than 100 €/t CO2-Eq, natural gas represents a very cheap way to reduce GHG emissions in bigger cars. The development of an infrastructure for natural gas would also help the market penetration of SNG. Constraints to the spread of gaseous fuel cars are customer acceptance and fears of explosion.
It should be noted that fuels from biogenic residues will not be able to replace fossil fuels in Germany in total but can be a viable asset. Potential analyses for Baden-Württemberg[2] showed that if all forest residues were used to produce biogenic electricity for commuter cars, roughly 25% of the fuels needed for commuter cars could be replaced. This would be significantly less for SNG (7% to 10%) or FT diesel (6% to 8%) and even less when including the all-purpose cars. However, in other regions of the world, the potential is higher[77]. When extending this study to those regions, car choices, driving patterns and the electricity mix should be adapted to local conditions.
We chose to model only the use of forest residues as energy source for the biogenic fuels. The results can be transferred to most biogenic residues (like straw) with minor modifications. This choice was made to avoid land use conflicts and land use change. In real life and without political regulations, other types of resources like energy crops would certainly also be used to produce those fuels. This would influence the results significantly, especially if taking into account the GHG emissions caused by land use change[78–80].
To conclude, it is important to clearly define the main goals of using biogenic fuels: maximum GHG abatement, GHG abatement at low cost, maximum fossil fuel replacement, overall environmental performance or maintenance of high car ranges via gaseous or liquid fuels. As shown in this study, the performance of a biogenic fuel strongly depends on this goal definition, and goals can be conflicting.
Last but not least, we would like to emphasize that parameters like occupancy, car sharing, driving style, and choice of transportation could reduce environmental impacts of individual mobility far more and in a cheaper way than biogenic fuels. For example, half the car trips in Germany are shorter than 6 km and could be replaced at least partially by public transport, bicycles, and walking.
Endnotes
aCosts and technical progress depend on worldwide car production, not only on German.
bThe compact cars are divided based on driving characteristics. The remaining 20% include sports cars, sport utility vehicles (SUVs), and bigger vehicles like mobile homes (Additional file1: Figure S1 for more details).
cAs well as photochemical oxidation and particulate matter.
dAnd also ecotoxicity and ozone depletion.
Abbreviations
B:

business as usual, scenario name, reference scenario
CADC:

common ARTEMIS driving cycle, speed profile representing realistic European driving conditions
CNG:

compressed natural gas, gas containing mainly methane
CO2:

carbon dioxide
CO2-Eq:

CO2 equivalent, unit for measurement of greenhouse gas emissions
Ct:

€-ct, Euro-cent, if not stated otherwise, all monetary values are inflation adjusted for the year 2011
E:

E-mobility age, scenario name, high production number of electric cars
FT:

Fischer tropsch, process to synthesize hydrocarbons from synthetic gas
G:

gas age, scenario name, high production number of gaseous fuel cars
GHG:

greenhouse gas, designation for gases causing global warming
LCA:

life cycle analysis, method modeling all material flows over the life cycle of a product
m2:

square meters
NEDC:

New European driving cycle, speed profile that is used to measure tailpipe emissions of cars, mandatory for European cars
NO x :

nitrogen oxides, includes NO and NO2
occupancy:

mean number of passengers per car
pkm:

passenger kilometer, unit for measuring the function of a passenger car. Represents the transportation of one passenger over 1 km (if a car carries two passengers, then 1 pkm is reached after 0.5 km)
ReCiPe:

life cycle impact assessment method created by the National Institute of Public Health and the Environment (RIVM), the Centre of Environmental Science of Leiden University (CML), and by PRé Consultants
SNG:

substitute natural gas, a gas with equivalent properties to natural gas (elsewhere also used for synthetic natural gas)
SUV:

sport utility vehicle
t :

ton, 1,000 kg
TCO:

total costs of ownership, sum of all costs arising from the ownership of a car (car acquisition, fuel costs, insurance, maintenance, etc.).
Authors' Affiliations
(1)
Institute for Technology Assessment and Systems Analysis (ITAS), Karlsruhe, Germany
(2)
Institute for Reciprocating Engines (IFKM), Karlsruhe Institute of Technology, Karlsruhe, Germany
Copyright
© Hurtig et al.; licensee Springer. 2014
This article is published under license to BioMed Central Ltd. This is an Open Access article distributed under the terms of the Creative Commons Attribution License (http://creativecommons.org/licenses/by/2.0), which permits unrestricted use, distribution, and reproduction in any medium, provided the original work is properly credited.