Original article

Open Access
Acculturation of renewable energy technology into remote communities: lessons from Dobrov, Bourdieu, and Rogers and an Indonesian case study
Energy, Sustainability and Society
2013
3:9
Received: 22 February 2013
Accepted: 2 May 2013
Published: 29 May 2013
Abstract
Background
Renewable energy technology can meet the energy needs of remote communities if local renewable energy resources are available and if it is deployed in a way that meets reasonable community expectations, thus allowing it to diffuse into the local culture in a process that can be called renewable energy technology acculturation. This paper analyzes renewable energy technology acculturation using Dobrov's conceptualization of technology as hardware, software, and orgware; Bourdieu's categories of objectified, embodied, and institutionalized cultural capital; and Rogers' concept of diffusion of innovations.
Methods
Using qualitative enquiries, this study combines literature research, field research, and in-depth interviews to understand the extent to which renewable energy technology diffuses into and is assimilated by remote communities. It uses a combination of concepts developed by Dobrov, Bourdieu, and Rogers that we call the KPDAC (knowledge, persuasion, decision, adoption, confirmation) model of acculturation. A case study of the acculturation of a photovoltaic-wind-diesel hybrid power system installed in the village of Oeledo in eastern Indonesia is used to illustrate the practical application of the KPDAC model.
Results
Results indicated that from a cultural perspective, despite long-term sustainability challenges, the hybrid power system has been successfully integrated into Oeledo village life.
Conclusions
Combining the concepts of Dobrov, Bourdieu, and Rogers proved to be useful in understanding the requirements for successful renewable energy technology acculturation in the remote Indonesian community of Oeledo. This has relevance for the analysis and design of similar projects elsewhere in Indonesia and in other countries that have similar characteristics.
Keywords
AcculturationRenewable energy technologyRemote communities
Background
Renewable energy technology (RET), sometimes in conjunction with fossil fuel technology, can be an appropriate way to meet rural energy needs where access to conventional energy supply is restricted, provided that local renewable energy resources are available and RET is deployed in the way that meets reasonable community expectations. Diffusing RET into a rural setting, particularly when community members lack familiarity with the technology, requires significant endeavor to incorporate it into the pre-existing culture. The process can be likened to a marriage between the newly introduced technology and the pre-existing local culture, the success of which is highly dependent on RET attributes and the scale of the RET project relative to the community's pre-existing situation, community culture characteristics, community expectations of RET, and how the acculturation process is managed. RET acculturation is defined here as the process by which RET diffuses into and is assimilated by a community.
This paper explores whether an active acculturation process, if designed and deployed in a manner that considers the challenges discussed above, can facilitate RET acculturation into remote community culture. This paper provides an independent assessment of an off-grid photovoltaic-wind-diesel hybrid system project in the village of Oeledo, located in the Nusa Tenggara Timur (NTT) province of Indonesia. This assessment is based on the field research by the first author in Oeledo in 2005 [1] with more recent updates from workshops, interviews, and literature review.
The Oeledo project was conceived and managed by the then E7a, the Government of Indonesia (GOI), the NTT (eastern Indonesia) Provincial Government, and the NTT-based non-governmental organization (NGO) Womintra. In what follows, these parties will be described collectively as the project proponents. The Oeledo project was one of a number of projects developed in collaboration between the E7 and the GOI with an overall budget of US$1.8 million. In the other projects, four micro hydro systems and 200 solar home system units were installed in other parts of NTT province and the province of South Sulawesi [2], p. 10b].
We use a combination of the following concepts in our analysis: Dobrov [3] conceptualized technology as a three-dimensional construct of hardware (equipment), software (skill, knowledge), and orgware (institution, network, rules, norms); Bourdieu [4] defined categories of objectified, embodied, and institutionalized cultural capital; and Rogers [5] introduced the concept of diffusion of innovations. We use Dobrov's work to provide a holistic understanding of technology, Bourdieu's work to define the key objectives of acculturation, and Rogers' work to explain the stages of acculturation and the roles that actors (RET providers, facilitators, and users) play in the process.
RET project case study: the photovoltaic-wind-diesel hybrid system in the village of Oeledo, eastern Indonesia
Oeledo is an off-grid coastal village located on Rote Island, a small island of 1,300 km
2
at 11°S and 123°E that is the southernmost Indonesian island and borders on Australian waters
c
. To visit this remote community, one must first fly to Kupang, the capital city of NTT Province, then take a 4-h ferry trip from Kupang to Rote's main harbor of Pantai Baru and then a 2-h journey by motorbike or robust four-wheel drive vehicle over a bumpy, hilly, rocky, and dusty road. When visited by the first author in 2005, Oeledo was a home to 354 families and was a typical example of a remote community living in an isolated and dry tropical climate. Temperature range in the NTT province, including Oeledo, is 20°C to 37°C with 8 months of dry season. At that time, the subsistence livelihoods of the Oeledo villagers depended on small fishing boats and
Lontar
d
or Palmyra palm trees (
Borassus flabellifer
) [
6
] visible in the background of the photograph in Figure
1
(a). In 2005, electricity supply was available in only 20% of NTT province and electricity consumption averaged 61 kWh per capita per year, which is approximately one tenth of average Indonesian per capita electricity consumption [
1
].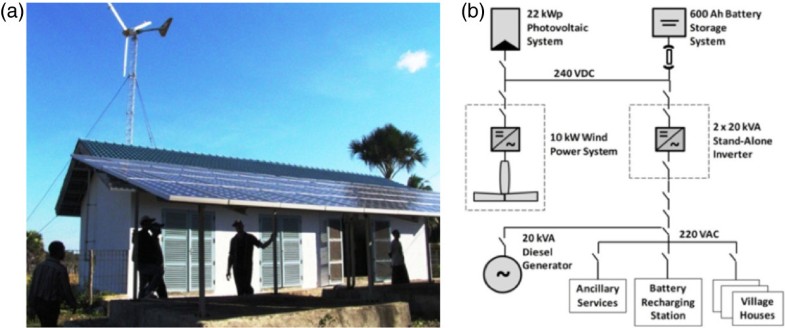 From 1996 to 1998, the project proponents undertook a feasibility study, socioeconomic and environmental assessments, site selection, and procurement for the Oeledo project. They commenced construction of Oeledo's photovoltaic (PV)-wind-diesel hybrid power system in 1999, which was then operated by a locally established village electricity management committee (Pengelola Listrik Desa - PLD), formed among the electricity users. This Activities Implemented Jointly (AIJ) project was designed as a prototype Clean Development Mechanism (CDM) project, intended to provide practical lessons in terms of technology transfer, capacity building, and greenhouse gas (GHG) emission reductions. Oeledo village was chosen because of sufficient solar insolation and wind energy resources, its isolation from the electricity grid, and its socioeconomic situation with potential users, albeit poor, who showed a willingness and ability to pay for the operation and maintenance of the electricity service [2], p. 18]. In the period July 2000 to June 2003, measured solar insolation at the project site was in the range of 1 to 7 kWh/m2/day, and the measured monthly average wind speed was in the range of 1 to 5 m/s with higher wind speeds between May and August compared to other times of the year [8].
The electricity-generating equipment installed at Oeledo comprised a 256 module, 22-kWp PV array, 10-kW wind turbine, 20-kVA diesel generator, 120 2-V deep-discharge lead acid cells providing 144-kWh battery storage, and two 20-kVA self-commutating inverters [2], see Figure 1(b). Electricity is distributed to households by means of an overhead 220-V single-phase distribution network. This electricity supply system provides an average of 48 kWh/day to a group of 127 connected households, each of which has a load limiter set at 0.5 to 2 A, depending on the level of monthly subscription each household has agreed to pay. The 127 early-adopter households benefited from a low connection fee as part of the project design. The hybrid power system design capacity was 144 kWh/day; however, the lower than anticipated initial daily demand, at 48 kWh/day, could usually be met by PV and wind alone, with the diesel generator on standby for occasional operation when required. In the period July 2000 to June 2003, PV production fluctuated between 45 and 90 kWh/day and wind production fluctuated between 5 and 60 kWh/day [8]. Spare solar and wind production capacity was offered to late adopters (subject to the cost of network connection) and used to provide commercial battery recharging services for non-subscribers in Oeledo and people from nearby villages.
The villagers were initially skeptical about the idea of generating electricity from sunlight and wind although some already had small portable diesel generators. Womintra, an NTT-based NGO that was familiar with the local culture, facilitated the project deployment and acculturation. From 1 year prior to hardware installation, Womintra field officers were stationed in the village for up to 2 years to familiarize the community with the project, facilitate the establishment of the PLD, and train the PLD officials in technical, financial, and micro-utility management skills. Among other strategies, they used a stand-alone solar PV system to demonstrate that sunlight could indeed be converted into electricity.
To avoid the so-called dropout syndrome referring to 'trainees leave the project after successful training' [2], p. 33] a village meeting elected members of the PLD who were deemed reliable and committed. PLD members built the PLD office, defined the rules such as office hours, meeting schedule, and penalty mechanisms for non-compliance. PLD meetings determined the salaries that the PLD officials would earn and regularly reviewed system operation and finances. To maintain financial integrity and transparency, withdrawal from the PLD bank account required two signatures - head of the PLD and the head of the village.
As shown in Figure
2
, the project had three management levels to combine a top-down approach (E7, GOI, and E7 Project Office for project concept and design) with a bottom-up approach (PLD and E7 Project Office level for project implementation, operation, and management). Users were involved in the decision-making process through the village PLD, focus group discussions, on-the-spot assessments, and individual interviews for the non-engineering issues that had to be resolved.

The project included an economic empowerment program that facilitated the formation of local cooperatives to develop and market Oeledo's Palmyra-based handicrafts and fishing. The hybrid power system increased Oeledo's per capita monthly income by a factor of 10 from 62,000 rupiahs (approximately US$ 62) in 1999 to 620,000 rupiahs in 2007, and the accumulated operating surplus exceeded 120 million rupiahs in 2008 [7], a significant amount for the village. Unfortunately, the operating surplus had to be spent on, among other things, replacing batteries and paying overseas experts to repair some foreign-sourced components of the hybrid system. The PLD chair lady, interviewed in 2005, was concerned that the remaining surplus would not be sufficient to finance future hardware replacement and suggested that cheaper Indonesian stand-alone solar home systems (SHS) might be adopted when the hybrid system failed. In 2007, 82 more families enlisted to subscribe to electricity supply, and the local government devised a financial scheme to subsidize the down payment for the US$90 connection cost as the distribution network had to be extended and material procurement had become more expensive. Also, the funds originally provided by the E7 had already been spent by 2007.
From a cultural perspective, the hybrid system was successfully integrated or diffused into Oeledo village life, being assimilated well by the community into its ongoing practice. In addition to the per capita income improvement, villagers enjoyed television (TV) shows in the house of a wealthy family who owned a colored TV and a parabolic antenna, which became a routine social gathering. PLD officers are being considered for promotion in the local government civil service. The project received an ASEAN Energy Award in Manila in June 2004e, and by 2005, visitors from more than 30 countries had visited Oeledo to learn about this rural electrification project.
Results and discussion
Lessons learned from the Oeledo case study
This paper has demonstrated the use of a combination of Dobrov's hardware-software-orgware [3], Bourdieu's cultural capital [4], and Rogers' innovation-decision stages [5] that we call the KPDAC model, to explain the components and stages in RET acculturation that resulted in RET being diffused into and assimilated by the off-grid community of Oeledo.
The most important lesson from the Oeledo project, when assessed using a combination of concepts developed by Dobrov, Bourdieu, and Rogers, is that off-grid technology transfer requires a sophisticated understanding and deployment strategy, as summarized below:
1.

RET should be viewed as a compound of hardware, software, and orgware rather than merely hardware; orgware and software should be transferred and consolidated prior to hardware deployment.

2.

RET should be viewed as cultural goods, rather than just consumer goods, and the RET appropriator (adopter) needs sufficient time and resources to acquire RET embodied cultural capital (software, skill, know-how) so that RET can be assimilated into local culture. The facilitator should have sufficient capacity to transfer RET cultural capital from the initial holder (project proponents) to the appropriator (village community).

3.

The facilitator should initially determine where the potential adopters reside in the KPDAC model prior to introducing RET as a novel artifact. The earlier the target community is initially located in the KPDAC model, the more time and resources the facilitator will need to guide community members through the remainder of the process to acculturate RET into community life. Similarly, RET projects that are large in scale relative to the pre-existing situation pose greater acculturation challenges than small projects.

4.

The facilitator also needs a good understanding of the pre-existing local culture to facilitate the blending, or diffusion of RET (as new cultural capital), into the culture, such that RET can be assimilated and add wealth to the community.

5.

It is also important to minimize leakage of newly appropriated cultural capital and to deter RET discontinuation so that the remote community can continue to confirm RET benefits. Thus, technology should be chosen so that, as far as possible, the hardware, software, and orgware are compatible with the pre-existing cultural capital of the community.

6.

All of the above suggests a need to change RET deployment and investment strategies from being centered on hardware to incorporating orgware and software, and to viewing off-grid communities as active rather than passive participants and as important agents of RET acculturation in their own right.
Implications of the lessons learned for off-grid projects elsewhere in Indonesia
The Indonesian electricity industry has grown significantly with the electrification ratio increasing sixfold from 11% in 1980 to 71% in 2011 [10], p. 20], reaching 159 million people in 31 years. However, this still left 70 million people in isolated regions without electricity supply in 2011. The government plans to increase the electrification ratio to 83% in 2015 and 94% in 2020 [11]; however, even then, about 15 million people will still lack electricity supply.
The geography of the Indonesian archipelago hinders the extension of grid supply to many off-grid communities. Traditionally, the government has installed small-scale diesel generators, and by 2011, there were approximately 4,800 diesel generators [10], p. 21] supplying scattered customers in the outer Java islands. However, the operating cost of diesel generators is becoming more and more prohibitive due to high fuel prices and high operating and maintenance costs. At the same time, electricity tariffs remain subsidized.
In 2010, Indonesia set an ambitious target of 25% renewable energy by 2025 [12], p. 105]. As part of the strategy, the Indonesian PLN state utility has embarked upon an ambitious off-grid target of installing 20-MWp PV by end of 2012 through its '100 Island Solar PV Project' and aims to commence its 225-MWp '1,000 Island Solar PV Project' in 2013 [13]. As an established utility, PLN is in a position to provide institutional certainty to maintain the operation and maintenance of the PV hardware. In this conventional centralized context, in which PLN, as the owner of the hardware and the initial holder of the PV technology cultural capital, does not need to delegate the software and orgware of the PV operation to the local communities so long as it maintains its presence in the location where PV systems are installed. It remains of interest, however, to see the long-term sustainability of this approach in practice.
Various other parties (state government, local government, cooperatives, NGOs, donors, and companies with corporate social responsibility schemes) continue to install renewable electricity generation in off-grid areas, particularly micro hydro, PV, and wind power systems. Those off-grid electrification schemes, for which operational responsibility is usually delegated to the local communities, are facing a more challenging long-term sustainability future. Fieldwork by the first author in NTT province in 2010 discovered failed PV, wind, and micro hydro systems, often after only a few years' operation. These systems were typically deployed under an ad hoc yearly budgeting system that put long-term operation of the RET project at risk, as such projects focused more on the initial hardware deployment (often with limited community training) rather than on the transfer of RET cultural capital.
Conclusions
Combining the concepts of Dobrov, Bourdieu, and Rogers proved to be useful in understanding the requirements for successful renewable energy technology acculturation in the remote Indonesian community of Oeledo. The Oeledo experience may provide lessons on how to achieve better long-term outcomes, albeit at higher initial cost. Further studies may shed light on the applicability of the RET acculturation concept as a project design tool. This is particularly important if Indonesia is to achieve its renewable energy target as intended and may have relevance for the analysis and design of similar projects elsewhere in Indonesia and in other countries that have similar characteristics.
Endnotes
aThe E7 was a non-profit international partnership formed by large electricity companies from the G8 countries, later renamed the E8 when another national utility joined. It is now called the Global Sustainability Electricity Partnership (http://www.globalelectricity.org/en/).
bThe set of E7 Indonesian projects comprised four micro hydro systems with a total capacity of 146 kW, 200 solar home systems of 50 Wp each (totaling 10 kWp) distributed in three villages and the 22-kWp PV - 10-kW wind - 20-kVA diesel hybrid system installed in Oeledo. The set of projects were reported to benefit more than 4,000 people in eight remote villages at project completion [2], p. 2].
cThis section is largely based on [14].
dAll parts of the Lontar palm tree are usable for various purposes including drink (including an alcoholic drink called neera), food (eaten raw, made as traditional sugar, or cooked as sweet dishes), medicine, construction (the trunk for hut structure, the stem for fences), and handicrafts (the leaves and the stem fiber for producing fans, hats, buckets, drinking cups, and mats) [1].
eAnnounced at the 22nd ASEAN Ministers on Energy Meeting, 9 June 2004, Manila, Philippines, http://www.eppo.go.th/inter/phil2004/ASEAN-amem22.html.
fTasks of E7 members other than RWE: Canadian Ontario Power Generation: AIJ design; American Electric Power: Financial sustainability analysis; French EDF and Canadian Hydro Quebec: Socioeconomic integration; Italian ENEL: PV-Wind hybrid system; Japanese KANSAI: Solar Home Systems; Japanese TEPCO: Micro Hydro power [7].
gPerusahaan Listrik Negara (PLN): state electricity utility.
hThis section is a revised version of material that appeared in [14].
iOperating in the tropics at high temperature can shorten battery life. Daytime temperature in NTT province, including Oeledo, can be above 30°C. Reference [15] reports that a temperature above 30°C could reduce battery life by between 20% and 45%. The marine environment may also exacerbate battery corrosion. The PLD seemed dedicated to maintaining the batteries; however, we cannot rule out poor battery maintenance or poor management of over-charging situations.
jThis section is a revised version of material that appeared in [16].
kItalicized by the authors.
lThis refers to 'persuasion' stage which refers to an attitude-forming stage [5], p. 175].
mThe term 'implementation' [5], p. 169] refers to an act of 'adoption' of the innovation, and we use the term 'adoption' in the KPDAC acronym.
nA prominent example of reinvention in developing countries is the motorbike, which is often modified to meet user needs such as transporting crops or passengers or acting as a mobile workshop.
oFear of compromising technical quality or breaching of IP (intellectual property) rights may be other reasons.
Declarations
Acknowledgments
AusAID provided funding for Dr. Retnanestri's PhD scholarship and her fieldwork, undertaken in 2005. An AusAID-funded Australian Development Research Award (ADRA) provided funding for further research and dissemination work during 2008 to 2011. Dr. Stephen Healy jointly supervised Dr. Retnanestri's PhD project and participated in the ADRA research project team. The authors are grateful to the Oeledo community and others who assisted in the research underlying this paper.
Authors' Affiliations
(1)
Electrical Engineering Department, STTNAS College, Yogyakarta, Indonesia
(2)
School of Electrical Engineering & Telecommunications, University of New South Wales, UNSW Sydney, Australia
(3)
Ipen Pty Ltd, UNSW Sydney, Australia
Copyright
© Retnanestri and Outhred; licensee Springer. 2013
This article is published under license to BioMed Central Ltd. This is an Open Access article distributed under the terms of the Creative Commons Attribution License (http://creativecommons.org/licenses/by/2.0), which permits unrestricted use, distribution, and reproduction in any medium, provided the original work is properly cited.