Original article

Open Access
Development of a fuel efficient cookstove through a participatory bottom-up approach
Energy, Sustainability and Society
2013
3:16
Received: 16 March 2013
Accepted: 25 July 2013
Published: 12 August 2013
Abstract
Background
Since 1940s, other than a few success stories, the outcomes of efforts of development and dissemination of improved cookstoves a have not been so fruitful. This paper presents a bottom-up approach that was successfully implemented to develop a fuel-efficient cookstove in a tribal village that has resulted in a substantial reduction in firewood consumption.
Method
The approach ensured people's participation at multiple stages of the process that started from project selection by capturing people's needs/desires and studying the existing cooking practice to understand its importance in the local context. The performance of the cookstoves was evaluated by modifying a standard Water Boiling Test to accommodate the existing cooking practice. The improvement of the cookstove was achieved by fabricating a simple twisted tape assembly that could be placed on it without changing the existing cookstove.
Results
The optimization of the twisted tape device was first carried out in the laboratory and then implemented in the field. The field-level tests resulted in reduction of firewood consumption by around 21% which is a substantial improvement for such a device. It was also found that the improvement reduced soot b accumulation by around 38% and time of cooking preparations by around 18.5%.
Conclusion
Overall, a bottom-up and participatory process that not only addressed people's perceived needs but also ensured no changes in the existing cooking practice while providing an easy, low cost (around US$1.25) c, and locally manufacturable solution led to a highly successful improvement in the local cookstove that was accepted easily by the villagers.
Keywords
Improved cookstove
Bottom-up approach
Twisted tapes
People's participation
Background
The inception of a development discourse in the West around the 1940s[1] has led to development of new technologies to address the problems of the poor in undeveloped and developing countries. Since then, the development and dissemination of improved cookstoves has been one of the key areas for development practitioners in government, volunteer organizations, and research laboratories[2, 3]. Other than a few success stories, the outcomes of efforts of these practitioners have not been so fruitful. This section summarizes impacts and challenges of different improved cookstove programs over the past 50 years. Sesan[4] broadly categorized these programs in three phases. We have adopted this categorization in the present context of technology development. These three phases are enumerated below.
Method
The present method adopts a bottom-up approach that emphasizes on understanding the local context and building on it. Such an approach is credited with having a high potential to result in socially and technologically appropriate solutions. Such solutions, in turn, have a greater probability of widespread adoption and long-term sustainability[18]. Towards this end, people's participation, not only in terms of involvement but also in terms of their control in deciding and planning, was sought in every field-level step that was adopted to develop the fuel-efficient cookstove. These steps involved goal setting, study of existing practice, field-level tests, and feedbacks. An emphasis was placed on the study of existing cooking practices after the appreciation of its importance in the present context. To ensure a high degree of social adoption and so to bear minimal variation from the existing cooking practice, it was decided to make small changes in the existing cookstoves by adopting a few guidelines from existing improved cookstove technologies.
Drawing from the abovementioned bottom-up approach, a different methodology was adopted for successful improvement of the traditional cookstove and its commercialization in Gawand wadi. The steps involved in this methodology are described here in short. Each of these steps is elaborated in later sections.
(1)

Understanding of present context: This was accomplished by studying, documenting, and analyzing the village residents from the view point of their assets, activities, energy resources, and utilization of human work hours to carry out different livelihood activities.

(2)

Goal setting: The goal of this project was decided by involving the villagers thoroughly. People's participation was ensured with the help of a set of surveys/studies. These included the problem-ranking exercise of the Participatory Rural Appraisal (PRA) activity [37], an energy-timeline survey of the domestic activities (similar to the surveys carried by Date [38] and Reddy [39]), and a health survey.

(3)

Field-level investigation of existing practice: This was carried by focused group discussions with women and potters (who make the cookstoves), measurements of existing cookstove dimensions, a walk through the firewood fetching area, and experiments to find the performance of traditional cookstoves. A detailed documentation of the cooking operation was carried out by selecting six households in the village that represent the differences in family size, number of women per unit family, and type of cookstove. The details of the selection procedure are discussed in the section, 'Field-level experimentation'.

(4)

Adapted water boiling tests: Accommodating the context-specific practices, two types of WBT, namely, single-pot and two-pot WBTs, were designed to measure performance indices of the cookstove.

(5)

Improvements in the traditional cookstove: To ensure minimal variation from the traditional practice (as explained in points 3 and 4 of the Section, 'Learning from the improved cookstove programs'), the traditional cookstove itself was sought to be modified by either optimizing the existing design specifications and/or retrofitting a new device (such as a chimney) in the existing cookstove. The modification was first implemented and tested in the laboratory.

(6)

Field-level experimentation: The proposed modification was tested in the field in the six selected families by adopting the modified water boiling tests and kitchen performance test. To mimic the existing cookstove firing practice, the women from the households themselves fired the cookstoves to carry out field-level experiments.

(7)

Local manufacturing and distribution: Local artisans (blacksmiths) were involved in making any device that needed to be added to the cookstove. An arrangement was also worked out so that the blacksmith would make and sell these products along with his regular wares (axe, sickle, etc.).
Women's involvement in terms of documentation, suggestions, and feedback at every stage of the process was the crux of the project.
Results and discussion
Effect of variation of number of twisted tapes on thermal performance of cookstove
Manufacturing in the laboratory
The twisted tapes were manufactured by twisting a mild steel plate heated to 300°C. The strip dimensions used for laboratory tests were the following: for the width, 1.25, 2.54, and 3.38 cm; length, 6 cm; and thickness, 1.5 mm. The tapes were twisted by holding them in a fixture together with a lathe machine. To ensure smooth twist, the tapes were heated with a torch blower, and the twisting procedure was implemented in four to five steps.
Retrofitting of twisted tapes
TTs were retrofitted in a cookstove by just inserting them in two or more steel rods and keeping the rods on the holes of the hearth to let the TTs hang in the hearth as shown in Figure 
6
. Thus, the intervention does not change the existing cookstove design. The new cookstove is similar to the existing one and would address the concerns raised in point numbers 3 and 4 of the Section "Learning from the improved cookstove programs".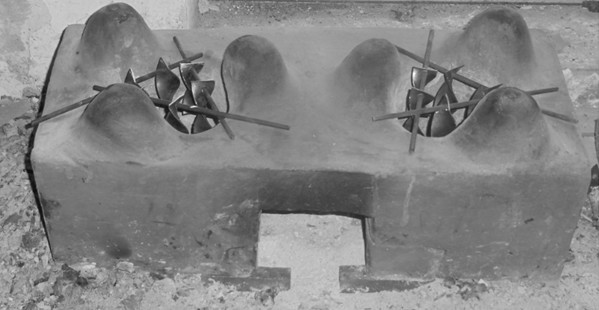 Outcomes of laboratory tests
A two-pot cookstove, made by a local potter, was used for the laboratory-level experimentation. Its specifications are listed in Table
10
in Appendix 1. The two-pot water boiling tests were carried out by varying the number of TTs in each hearth (experimental set-up is shown in Figure 
7
). The water boiling tests were carried out in the following order:
(1)

Varying the number and width of the twisted tapes in each hearth for the same twist angle (180°).

(2)

Varying the twist angle (0°, 60°, 120°, 180°, and 240°) for optimum width and number of twisted tapes (2.54 cm and seven, respectively).

(3)

Carrying a few additional WBTs with optimum width and twist angle (2.54 cm and 180°, respectively) to study the effect on exhaust gas composition and soot. This helps in understanding the contributions due to the twisted tape assembly.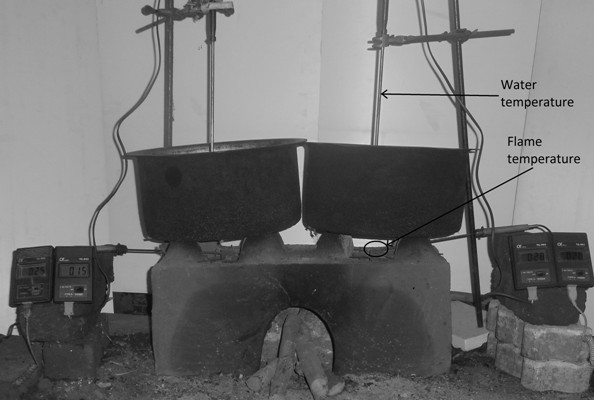 It was observed that the thermal efficiency of the cookstove was optimum (improvement by 24.5%) for inclusion of seven number of twisted tapes having a width of 2.54 cm and a twist of 180°. A few additional WBTs with optimum width and twist angle showed that the proposed retrofitting improves combustion of the volatile gases (see Table
7
). It was also observed that the amount of soot accumulated over the outer surface of the pot decreases by around 38% (see Table
7
) by inclusion of these TT inserts. A detailed analysis of the laboratory level WBTs is not discussed in the present report and will be presented elsewhere. It was decided that field-level tests by retrofitting seven TTs of 2.54 cm width and 180° twist angle in each hearth be carried out.
Table 7
Soot accumulation and percentage composition of the gases at the center of the stove top
| | O2(%) | | Soot (g) |
| --- | --- | --- | --- |
| Normal cookstove | 10.5 | 0.087 | 2.84 |
| Seven TTs | 5.5 | 0.082 | 1.75 |
| Eleven TTs | 7.8 | 0.080 | 2.20 |
Field level experimentation
Field-level experiments were carried out at the six selected households in the following order: single-pot water boiling test, two-pot water boiling test, and kitchen performance test. The method of selecting the households is explained below.
Selection of the households
It was first noted that the cookstove size and firewood requirement increase with family size (see Figures
13
and
14
in Appendix 1). If the number of women per unit family size is higher, firewood fetching and cooking activities get distributed among women, and it reflects in the human work hour involvement and drudgery associated with it. If the number of women per unit family size is lower, women try to fire the cookstove with a higher input power in order to accomplish the cooking task earlier. Figure 
8
shows all the existing combinations of the family size and number of women per unit family size in the village. The data points are then divided in four quadrants as shown. Depending on the willingness of the family members to participate in field-level experimentation and the type of cookstove (two-pot or three-pot), four different households from each quadrant were selected along with two households from extreme ends (encircled in Figure 
9
and listed in Table
1
). As there are nearly equal number of two-pot and three-pot stoves in the village, it is ensured that three out of the six selected households have three-pot stoves. The dimensions of the cookstoves are listed in Table
11
in Appendix 1.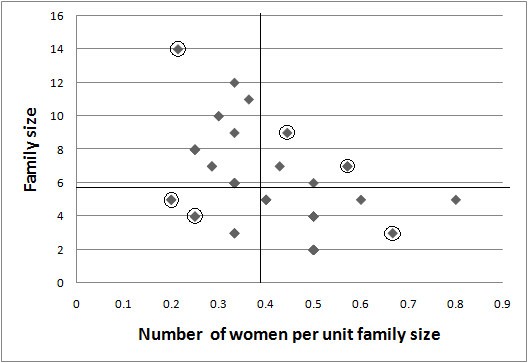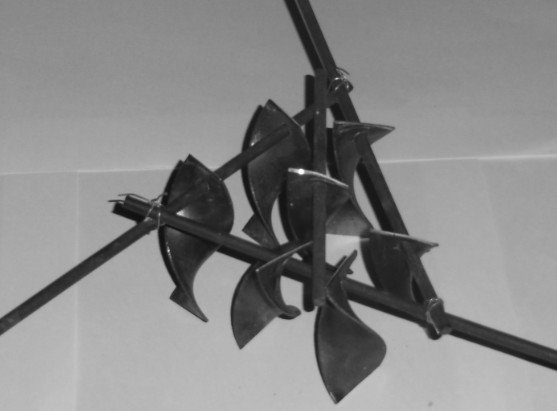 Single-pot water boiling test
By introducing seven TTs, the thermal efficiency of the cookstove increases by an average of 20.61 ± 1.98%, and the specific fuel consumption of cookstove is decreased by 14.5 ± 1.32% (at the statistical significance level of 0.05 for both the outcomes).
Two-pot water boiling test
The thermal efficiency of the cookstove increases by an average of 22.82 ± 2.48%, and specific fuel consumption of the cookstove decreases by 15 ± 1.29% (at the statistical significance level of 0.05 for both the outcomes) by retrofitting of TTs in existing cookstove (see Figure 
10
and
11
).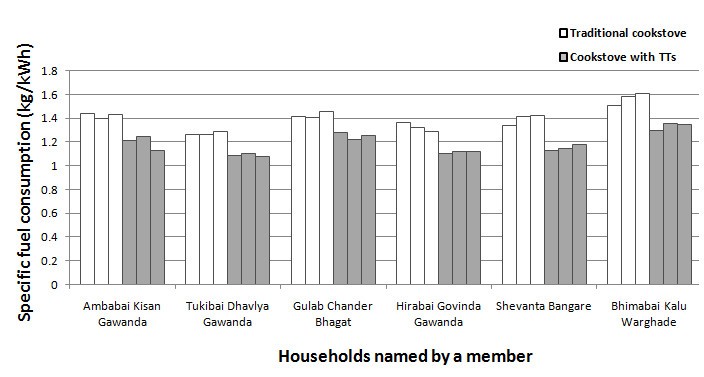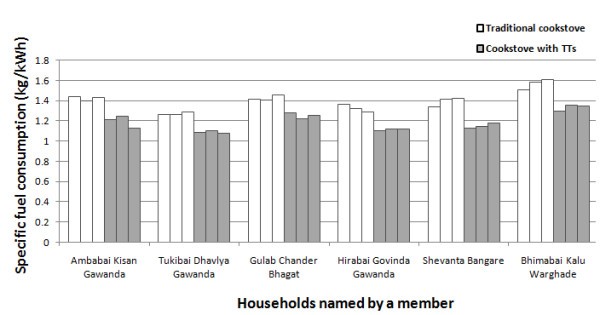 Kitchen performance test
The results of the KPT are shown in Table
8
. Corrections in wood consumption of the families due to presence of guests were incorporated by considering an average firewood usage for food preparations as listed in Table
6
. The results of KPT show (see Table
8
) a reduction of 21.3 ± 1.89% (at the statistical significance level of 0.05) in the average daily wood consumption.
Table 8
Results of kitchen performance test at two households
Household

Operation conditions

Average

daily wood

requirement

(kg/day)

Ambabai Kisan Gawanda

Normal cookstove

5.81

Cookstove with TTs

4.56

Tukibai Dhavlya Gawanda

Normal cookstove

5.78

Cookstove with TTs

4.39

Gulab Chander Bhagat

Normal cookstove

7.25

Cookstove with TTs

5.56

Hirabai Govinda Gawanda

Normal cookstove

7.22

Cookstove with TTs

5.89

Shevanta Dehu Bangare

Normal cookstove

9.08

Cookstove with TTs

7.43

Bhimabai Kalu Warghade

Normal cookstove

9.39

Cookstove with TTs

7.38
The results of the kitchen performance test show that the percentage increase in the performance of cookstove is lower than that indicated by WBTs. Once the cooking preparations in the morning, noon, or evening are completed, the women leave accumulated coal inside the hearth itself. It slowly burns and decreases in weight until the next operation starts. Secondly, if the coal accumulation prohibits insertion of firewood in the hearth zone, the women take the coal out of the cookstove and throw it away. Thus, all the coal that remains at the end of cooking operations is not utilized. Hence, the percentage decrease in wood consumption is lower (by around 3%) than the percentage increase in the thermal efficiency. Yet, as some amount of the remaining coal is still utilized for further food preparation, the percentage decrease in average wood consumption is higher in KPT than the percentage decrease in specific fuel consumption (by around 4%) in WBT.
As KPT gives actual improvements in the cookstove performance by enabling real-time monitoring of the cooking performance, it is a more relevant test. Furthermore, as water boiling is a major cookstove operation (see Table6), the results shown by the water boiling tests are closer to those shown by the kitchen performance test.
Women's feedback
The women in the six selected households gave the following feedbacks regarding the retrofitting of TTs in their cookstoves:
(1)

Improvement in the cookstove has reduced wood consumption by roughly 25% (as per their estimate).

(2)

Soot accumulation over the outer surface of pots has reduced.

(3)

Time required to prepare different food items has reduced.

(4)

Women found that sometimes the steel rod holding the TT would fall inside the hearth zone due to lateral force exerted by firewood on TTs. If this problem is removed, it would be wonderful.
A new retrofitting was devised as a result, in which the seven TTs are inserted in a welded triangular rod structure as shown in Figure 9. It does not fall in the hearth and is very easy to place and remove from the stove. Women liked this new design.
Commercialization through local artisans
Commercialization involves manufacturing and distribution of the technology. Bottom-up approach emphasizes building on the local human skills and the local socio-economic structure. The improvement is found to be not very sensitive to the slight changes in the width and twist angle of the twisted tape. Thus, local manufacturing and dissemination of the TT packs was found to be an impressive alternative. The success of the dissemination of an improved cookstove program depends upon multiple factors[54] that vary with context. Although many dissemination programs emphasized on training local people for manufacturing and marketing of improved cookstoves[20, 55], it was found that at many places, these enterprises get poor benefits, so they have little motivation to start and sustain the business[9]. Therefore, if a local artisan is trained to accommodate the manufacturing and selling of improved cookstoves in his/her existing socio-commercial business, there is a greater probability for its sustenance. In the present context, manufacture and dissemination of the TT packs through the existing business structure of the local blacksmiths is sought. Traditionally, they make and repair sickles, axes, ploughs, and other tools required for agricultural and domestic activities. Recently, many of them have diversified their skills to lay tin roofs and build steel gates. Manufacturing of TT pack involves cutting, drilling, heating, twisting, and welding operations. Thus, the local blacksmiths who have welding and drilling machines can manufacture the TT pack. There is a traditional custom of buying and repairing the iron/steel tools from local blacksmiths. Thus, the manufacture and selling of the TT packs can be accommodated in the existing sustainable traditional business of the blacksmiths.
A blacksmith's work load is seasonal. He makes and repairs ploughs and sickles during monsoon for agricultural activities, while he makes axes and other tools in the winter season. During summer, he is engaged in house building activities that involve welding, tin/steel cutting, and drilling operations. Usually, a blacksmith has leisure time during monsoon season. Thus, the blacksmiths can allot more time to make TT packs during monsoon.
A manufacturing process to build the TT packs has been devised by interacting with two blacksmiths and one steel fabricator
g
.
(1)

A steel plate with thickness of 1.5 to 2 mm is cut to get small plates of required TT size.

(2)

The plates are placed in the blacksmith's kiln to make them red hot.

(3)

The red hot plate is held in a vise and twisted by a long lever with a groove to hold the plate. It is twisted by 60° to 90° in one go. It is then again placed in the kiln to heat. The whole process of twisting it to 180° requires two to three steps. This is to ensure a smooth curve for the twisted tape.

(4)

A hole is drilled in the TT to insert a steel rod (4 mm diameter).

(5)

Finally, a TT pack is made by welding the rods together.
The present material cost is US$0.5 per TT pack. By considering the manufacturing cost, transport cost to buy steel plate and rods, and the profit of blacksmith (US$8 per day), the total cost comes to around US$1.25 per TT pack. The technology is being disseminated with the help of two local volunteer organizations, Disha Kendra and Oak Vanaushadhi Kendra.
Dissemination of the innovation
As of now, 45 families from 11 different villages h have been using the TT packs in their cookstoves. Ten out of these families have been using this device for more than a year. Similar traditional cookstoves are found across the coastal belt of Maharashtra. Thus, the same innovation can be disseminated across the villages in this coastal region. For the other parts of rural India, the stove designs are much different, and there is a need to identify a context-specific intervention, which may not necessarily be a twisted tape.
Conclusion
The present study derives a novel bottom-up approach to develop or improve a rural/community technology by appreciation of wider aspects of the technology-community linkage, namely, people's priorities, people's desires behind improvement or development of technology, importance of studying and maintaining existing technology practises, availability of local resources to manufacture and operate the technology, and its commercial viability and sustainability. It enhances social efficiency of adoption of the technology by people. Overall, the approach mingles three aspects linked with rural/community technology.
(1)

Social: This includes people's participation to set the goal behind the development of technology, appreciation of the existing context in terms of livelihood activities, local natural resources, and human skills.

(2)

Technical: This includes the formulation of a procedure to measure the performance of the technology according to existing context, laboratory and field-level testing, feedback from the people, and further improvements in the technology.

(3)

Commercial: Manufacturing and distribution through locally sustainable structure.
Retrofitting of the TT pack in the existing cookstoves in the village would save nearly 22% of human work hours and human energy involved in the firewood fetching activity. For an average family of six, women make 97 to 122 trips per year to the local forest to fetch firewood. These trips can be decreased by 21 to 27. By considering an average duration of 4.5 h/trip, there can be an annual saving of 95 to 122 women work hours. The TT pack also decreases soot accumulation on the outer surface of pot by around 38%. Based on the temperature variation graph of the water boiling test in the laboratory, the TT pack reduces the cooking time by around 18.5%. For an average family of six, it saves 0.5 h daily and 182 h annually required for cooking preparations. Although the laboratory experiments showed that the optimal retrofitting of the twisted tapes improves combustion and thereby reduces indoor air pollution, it remains to measure the percentage reduction of health-damaging emissions i.
Endnotes
a Improved cookstove is generally regarded as a relative concept. Improved cookstoves may improve fuel efficiency, reduce indoor air pollution that causes multiple health hazards, prevent fire hazards, reduce cooking time, or reduce green house gas emissions[56–58].
b It is a particulate matter especially black carbon.
c It was assumed that US$1 is around 50 Indian Rupees.
d This is a pre-monsoon activity in which grass, tree branches, leaves, and cattle dung are burnt over around one-fifth part of the farm to prepare the land for sowing of paddy.
e Space heating is required during winter season to warm the house during night and early morning.
f The details of the thermo-chemical model of the traditional cookstove are not discussed in the present report and will be presented elsewhere.
g Madhukar Chavan from Kashele, Anil Jadhav from Kondivade, and Pankaj Gore from Vaingaon.
h These villages are Gawand wadi, Tepachi wadi, Waghai wadi, Kothimbe, Rajpe, Kalamb, Vare, Kondivade, Tamhanath wadi, Khandpa, and Dhare wadi located in Karjat block of Raigadh district of Maharashtra state.
i Major health-damaging emissions involve particulate matter, carbon monoxide, carcinogens such as benzo[a]pyrene, formaldehyde, nitrogen dioxide, and sulfur dioxide[59, 60].
Appendices
Appendix 1
Specifications of the traditional cookstoves in Gawand wadi
The specifications of the two-pot and three-pot stoves are shown in Tables
9
,
10
, and
11
, and in Figures
12
,
13
and
14
.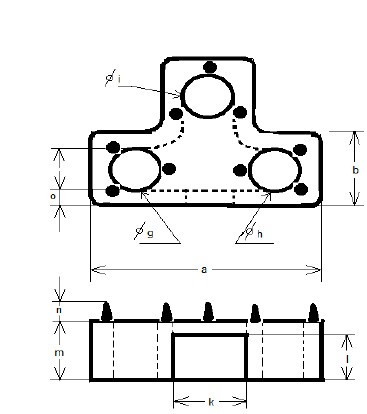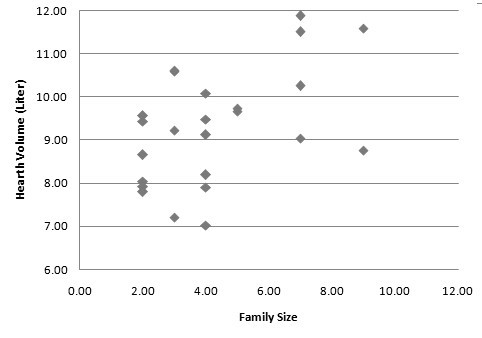 Table 9
Specifications of the cookstoves in Gawand wadi (refer to Figure 12 for notations)
| Type | V(cm3) | g(cm) | h(cm) | i(cm) | m(cm) | a(cm) | b(cm) | h(cm) | l(cm) | k(cm) | o(cm) |
| --- | --- | --- | --- | --- | --- | --- | --- | --- | --- | --- | --- |
| Two-potcook stove | 9624 ± 5240 | 13.77 ± 3.3 | 13.75 ± 3.3 | 0.00 | 18.58 ± 4.2 | 54.58 ± 13.5 | 26.88 ± 6.9 | 5.96 ± 1.5 | 13.67 ± 4.8 | 14.46 ± 6 | 5.82 ± 1.23 |
| Three-pot cookstove | 13152 ± 7130 | 13.72 ± 3 | 13.8 ± 3 | 10.98 ± 2.7 | 18.75 ± 5.1 | 57.11 ± 14.1 | 26.98 ± 5.7 | 6.18 ± 1.8 | 14.16 ± 5.4 | 15.08 ± 7.2 | 6.41 ± 1.98 |
Table 10
Specifications of cookstove used for laboratory testing (refer to Figure 12 for notations)
| Hearth zone volume (V, cm3) | g (cm) | h (cm) | m (cm) | a (cm) | b (cm) | h (cm) | l (cm) | k (cm) | o (cm) |
| --- | --- | --- | --- | --- | --- | --- | --- | --- | --- |
| 9,034 | 14.3 | 14.1 | 20.4 | 54 | 26.6 | 6.5 | 12.3 | 12 | 6.3 |
Table 11
Specifications of the selected cookstoves for field level experimentation (refer to Figure 12 for notations)
| Households | Family size | V (cm3) | g (cm) | h (cm) | i (cm) | m (cm) | a (cm) | b (cm) | h (cm) | l (cm) | k (cm) | o (cm) |
| --- | --- | --- | --- | --- | --- | --- | --- | --- | --- | --- | --- | --- |
| Ambabai Kisan Gawanda | 3 | 12,019 | 14 | 14 | 11 | 19 | 57 | 27 | 6 | 14 | 12 | 6 |
| Tukabai Dhavlya Gawanda | 4 | 7,060 | 13.5 | 12.5 | | 16 | 55 | 25 | 5 | 12 | 12 | 6 |
| Gulab Chander Bhagat | 5 | 14,446 | 14 | 14 | 12.5 | 18 | 55 | 26 | 6 | 14.5 | 16.5 | 7 |
| Hirabai Govinda Gawanda | 7 | 10,257 | 14 | 14 | | 20.5 | 58 | 25 | 7 | 13.5 | 15 | 5.5 |
| Shevanta Dehu Bangare | 9 | 11,589 | 15 | 14.5 | | 17.5 | 58 | 29 | 6 | 15 | 17 | 7 |
| Bhimabai Kalu Warghade | 14 | 14,943 | 15 | 14.5 | 10 | 19 | 68 | 29 | 6 | 15 | 16 | 7 |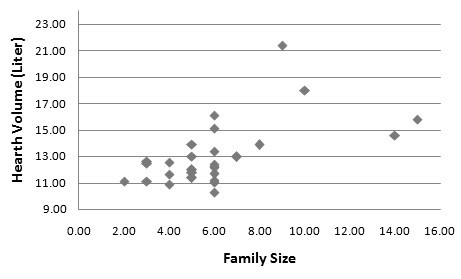 The size of the cookstove usually increases with family size as shown in Figures13 and14.
Appendix 2
Manufacturing process of the traditional cookstoves
For the present exercise, the manufacturing process of the cookstoves was understood from two manufacturers in the village and also from the two potters from two different villages in Karjat block (Gajanan Kumbhar from village Sugve and Padma Kumbhar from village Shelu). The materials for the construction of a two-pot cookstove are approximately 30 kg clay, 2 kg rice husk, 2 kg ash, and 3 kg cattle dung. The soil found in the upper layer of paddy field is usually used to build the cookstoves. The process can be described in a step-wise fashion as follows:
(1)

Small stones and larger particles are separated from the soil. This soil is then put in a wet bag for around 8 days.

(2)

The soil is mixed with rice husk, ash, and cattle dung, and pressed with legs for around 20 min to make it a homogeneous mixture. It is believed that these added ingredients to the soil act as binding agents and increase the strength of the cookstove.

(3)

The stove dimensions are drawn on the ground, and the stove is built on it by placing small pieces of mud one above the other. The potters also use wooden moulds to increase the rate of production of cookstoves. The process takes around 1 h.

(4)

Two days later, when the stove is partially dried, the opening for firewood feeding is carved.

(5)

Finally, the stove is allowed to dry for 8 days before it can be used.
On an average, a potter builds two cookstoves per day. A two-pot cookstove is sold at the rate of USA$3 per piece, and a three-pot cookstove is sold at the rate of US$4 per piece.
Appendix 3
Heat flow diagram of cookstove
Figure 
15
shows the heat flow diagram of the traditional cookstove that was used for the laboratory tests.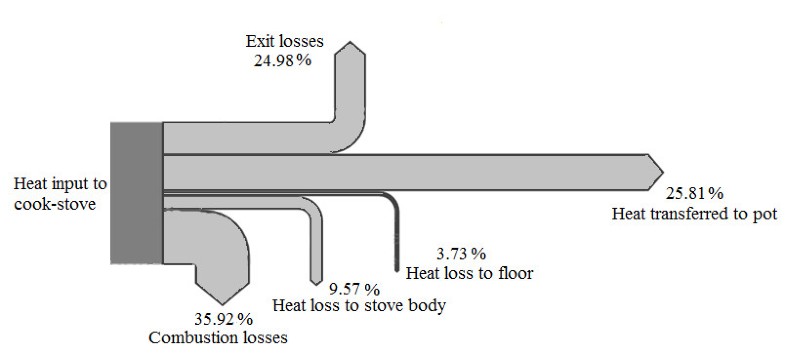 Authors' information
VHH is a PhD research scholar. UVB and MS are professors and the PhD advisors of VHH. VHH completed a dual degree (BTech + Mtech) in the Department of Mechanical Engineering at IIT Bombay in July 2007. Thereafter, he worked with Suzlon Energy Limited for a period of 6 months before joining CTARA for his doctoral research work. MS did his masters degree in the University of Illinois in 1988 and his Btech and PhD from IIT Bombay in 1986 and 1993. He was appointed as assistant professor at IIT Bombay in 1994. Since 2005, he has focused on rural drinking water as an area of research. Presently, he is a professor in the Department of Computer Science and Engineering at IIT Bombay and the current head of the Centre for Technology Alternatives for Rural Areas (CTARA). UVB obtained a bachelors in Mechanical Engineering from IIT Bombay in 1995 and obtained his Masters and PhD degrees from the University of Minnesota in 2000 and 2002, respectively. He was appointed as an assistant professor at the Department of Mechanical Engineering at IIT Bombay in 2004. Presently, he is an associate professor at IIT Bombay.
Abbreviations
WBT:

Water boiling test
KPT:

Kitchen performance test
TT:

Twisted tape.
Declarations
Acknowledgements
The authors are thankful to the people of the village Gawand wadi, especially to the women, for their participation and support throughout the research work.
Authors' Affiliations
(1)
CTARA, Indian Institute of Technology Bombay, Mumbai, India
(2)
Department of Mechanical Engineering, Indian Institute of Technology Bombay, Mumbai, India
(3)
Department of Computer Science and Engineering, Indian Institute of Technology Bombay, Mumbai, India
Copyright
© Honkalaskar et al.; licensee Springer. 2013
This article is published under license to BioMed Central Ltd. This is an Open Access article distributed under the terms of the Creative Commons Attribution License (http://creativecommons.org/licenses/by/2.0), which permits unrestricted use, distribution, and reproduction in any medium, provided the original work is properly cited.