The bioliq® bioslurry gasification process for the production of biosynfuels, organic chemicals, and energy
Energy, Sustainability and Society
2012
2:3
Received: 26 August 2011
Accepted: 27 February 2012
Published: 27 February 2012
Abstract
Background
Biofuels may play a significant role in regard to carbon emission reduction in the transportation sector. Therefore, a thermochemical process for biomass conversion into synthetic chemicals and fuels is being developed at the Karlsruhe Institute of Technology (KIT) by producing process energy to achieve a desirable high carbon dioxide reduction potential.
Methods
In the bioliq process, lignocellulosic biomass is first liquefied by fast pyrolysis in distributed regional plants to produce an energy-dense intermediate suitable for economic transport over long distances. Slurries of pyrolysis condensates and char, also referred to as biosyncrude, are transported to a large central gasification and synthesis plant. The bioslurry is preheated and pumped into a pressurized entrained flow gasifier, atomized with technical oxygen, and converted at > 1,200°C to an almost tar-free, low-methane syngas.
Results
Syngas - a mixture of CO and H2 - is a well-known versatile intermediate for the selectively catalyzed production of various base chemicals or synthetic fuels. At KIT, a pilot plant has been constructed together with industrial partners to demonstrate the process chain in representative scale. The process data obtained will allow for process scale-up and reliable cost estimates. In addition, practical experience is gained.
Conclusions
The paper describes the background, principal technical concepts, and actual development status of the bioliq process. It is considered to have the potential for worldwide application in large scale since any kind of dry biomass can be used as feedstock. Thus, a significant contribution to a sustainable future energy supply could be achieved.
Keywords
bioliqbiomassbioslurrybiosynfuelbiosyngasentrained flow gasificationfast pyrolysisdimethyl ethergasoline
Background
Only 200 years ago, the energy supply of a one billion world population depended entirely on renewables. The main energy source was firewood for residential heating, cooking, and lighting, as well as serving for high-temperature processes like iron ore reduction, burning bricks and tiles, or glass melting, etc. A complementary energy contribution was mechanical energy from hydropower for hammer mills or wind energy for windmills and sailing ships. Not to forget that the main power source for human activities carried out by working animals and human workers has been fuelled by biomass. Large energy plantations in the form of grassland and arable land (e.g., for grass, hay, oat, etc.) were devoted to 'transportation fuel' production for horses, donkeys, camels, etc.
A well-established organic chemical industry based on various biomasses also existed until about a century ago. Examples are the coproducts from thermochemical charcoal production like tar and pitch, e.g., as a glue for ship construction, wood preservatives, turpentine, 'wood spirit' (methanol), or 'wood vinegar' (acetic acid), etc. or biochemical wine and beer production by sugar and starch fermentation. It took many decades of development efforts until the major organic chemicals could be manufactured by cheaper synthetic processes from coal, crude oil, or natural gas.
Mid-2011, a world population of 7 billion people consumes around 13 Gtoe/a of primary energy [
1
]. The world primary energy mix consists of
ca
. 80% fossil fuels and
ca
. 10% bioenergy as shown in Figure
1
. Towards the end of the century, an increase of the world population to a maximum of almost 10 billion is expected in combination with a doubling of the energy consumption to about 25 Gtoe/a. This corresponds to an average energy consumption of 3.4 kW(th)/capita or about two-thirds of the present per capita consumption in the European Union (EU 27). The economic growth takes place in the highly populated and rapidly growing and developing nations mainly in China, India, Indonesia, the neighboring South East Asia region, and in South America, e.g., Brazil, and comprises more than half of the future world population.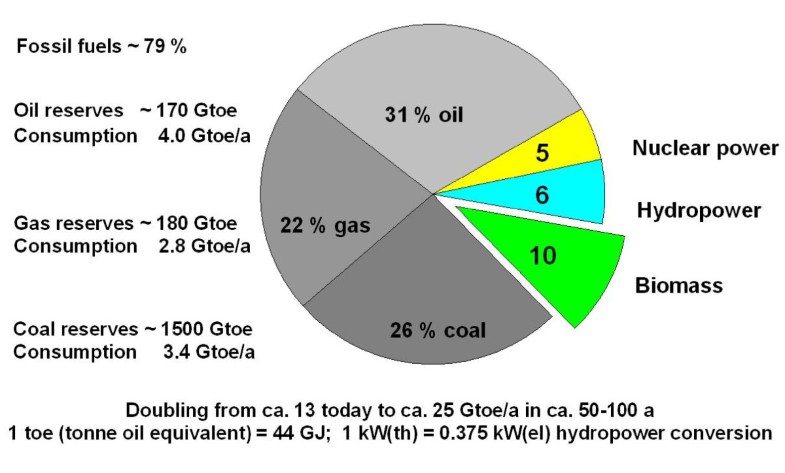 If the high fossil fuel share of ca. 80% would be maintained in the future energy mix, the proven and economically recoverable overall coal, oil, and gas reserves of almost 2 Ttoe [1] known in 2010 will be depleted in about a century as a continuation of the present consumption rate: first the oil in 43 years, then the gas in 62 years, and the larger coal reserves at the end in almost 400 years. However, coal will be consumed much faster when it has to take over the large oil and gas share. Together with a doubling of the energy consumption, the realistic, dynamic lifetime shrinks to a little more than 100 years. In this scenario, the present CO2 content of 386 v/v in the atmosphere will about to double and cause global warming of several kelvin with rising sea levels and more frequent weather excursions.
To gradually replace the dwindling fossil fuels in the course of this century, renewable direct (photovoltaics and solar thermal) and indirect (hydropower, wind energy, and bioenergy) solar energies and quasi-inexhaustible energy sources like nuclear breeder and fusion reactors as well as some smaller contributions from geothermal and tidal energies must therefore urgently be developed to commercial maturity. The inevitable switchover of our energy supply from the finite fossil to renewable and - from a human point of view - quasi-inexhaustible energy sources requires much financial effort, time, and innovative ideas and will heavily strain human and material resources. Development and market introduction must be achieved in due time to avoid armed conflicts in case of a shortening or breakdown of energy supply. This task belongs to the major challenges of our century. Biomass must and can contribute an indispensible and significant part to a sustainable future energy supply, but with present-day technologies, it can by no means serve all energy needs of mankind. High priority has to be given to technology research and development for the inevitable exploitation of biomass as the only renewable carbon source for organic chemicals and fuels. Bioenergy is an inevitable by-product of the increasingly important biocarbon utilization.
Conclusion and outlook
Biomass is the only renewable carbon resource and will gradually become the major raw material for organic chemistry. Large physicochemical, biochemical, and thermochemical biorefineries are the organic chemical industries of the future and produce organic chemicals, biosynfuels, plus various forms of energy as inevitable couple and side products. The thermochemical pathway proceeds via the conversion of the abundant lignocellulosic biomass to syngas and allows a rather flexible use not only of various biofeedstock, but also of coal and other fossils during a transition period.
The bioliq process under development at the KIT can be considered as the backbone of a large future thermochemical biorefinery. Lignocellulosic biomass is first liquefied by FP to a bioslurry. This is a convenient handling, storage, and transport form and has been successfully gasified in a slagging PEF gasifier to a tar-free, low-methane syngas. The front-end steps for syngas generation from biomass still need further development to achieve commercial maturity. The tail-end steps for syngas use are well known and practiced technically since almost a century. A vast literature exists for syngas generation and use. The feasibility of the essential new steps of biomass liquefaction, bioslurry preparation, and gasification in a PEF gasifier has been successfully verified in a number of lab- and pilot-scale experiments.
Abbreviations
BTL:

biomass to liquid
capex:

capital expenditure
CHP:

combined heat and power
CTL:

coal to liquid
DBI:

Deutsches Brennstoff Institut (German Fuel Institute)
DME:

dimethyl ether
EF:

entrained flow
EU-27:

European-27 (states)
FP:

fast pyrolysis
FT:

Fischer-Tropsch
GSP:

Gaskombinat Schwarze Pumpe
GTL:

gas to liquid
HHV:

higher heating value
KIT:

Karlsruhe Institute of Technology
LHV:

lower heating value
PEF:

pressurized entrained flow
SFGT:

Siemens Fuel Gasification Technology
SS:

stainless steel
SVZ:

Sekundärrohstoff Verwertungszentrum (Center for Utilization of Secondary Raw Materials)
TCI:

total capital investment
TSM:

twin-screw mixer reactor
XTL:

× to liquid
ΔrH:

reaction enthalpy
ΔrG:

Gibbs free energy.
Declarations
Acknowledgements
We appreciate the substantial financial support from the German Ministry of Food, Agriculture and Consumer Protection, the Agency of Renewable Resources, the state of Baden-Württemberg, and the EU Commission for funding the RENEW and BioBOOST projects.
Authors' Affiliations
(1)
Institute of Catalysis Research and Technology, Karlsruhe Institute of Technology (KIT), Eggenstein-Leopoldshafen, Germany
Copyright
© Dahmen et al; licensee Springer. 2012
This article is published under license to BioMed Central Ltd. This is an Open Access article distributed under the terms of the Creative Commons Attribution License (http://creativecommons.org/licenses/by/2.0), which permits unrestricted use, distribution, and reproduction in any medium, provided the original work is properly cited.