Original article

Open Access
The potential of a sustainable municipal waste management system for Santiago de Chile, including energy production from waste
Energy, Sustainability and Society
2012
2:24
Received: 10 December 2012
Accepted: 12 December 2012
Published: 20 December 2012
Abstract
Background
Due to a rapid urbanization process in the Metropolitan Region of Santiago de Chile (MRS), the amount of municipal solid waste (MSW) generated has increased considerably within the last years. MSW should be managed properly in order to achieve sustainable development. The purpose of this study is to analyze MSW management in MRS on the basis of three different explorative scenarios for the year 2030.
Methods
The Integrative Sustainability Concept of the Helmholtz Association provided a conceptual framework for the study and was used to evaluate the scenarios. One important topic within the field of management of MSW in the year 2030 will be the contribution of waste treatment technologies to energy production, e.g., by the use of landfill gas and by separated collection of biowaste followed by anaerobic treatment.
Results
The largest sustainability deficits in the scenarios are the small proportion of MSW being pre-treated before final disposal and the greenhouse gas (GHG) emissions associated with MSW disposal. MSW management technologies taken into consideration were mechanical biological treatment, energy recovery from MSW in anaerobic digestion plants with biogas production, the production of refuse-derived fuel and its use as a secondary fuel, as well as electricity generation from landfill gas. Energy generation from MSW in 2030 will be about 6% of electricity consumption in 2010.
Conclusions
The three scenarios show some sustainability deficits. Even so, there are some improvements such as the reduction of GHG emissions and - even though marginal - energy supply for MRS from renewable energy sources.
Keywords
Waste managementScenariosSustainabilityMegacitiesEnergy from waste
Background
Adequate management of municipal solid waste (MSW) is essential for the health of urban residents, for the protection of the environment and the conservation of resources, and therefore for the sustainability of any city. In its widest sense, the activities associated with the management of MSW include waste handling, collection and transport, treatment, recovery of materials and energy, and final disposal (Figure
1
). In most developed countries, each of these stages, mainly due to legal regulations, occurs as part of the system.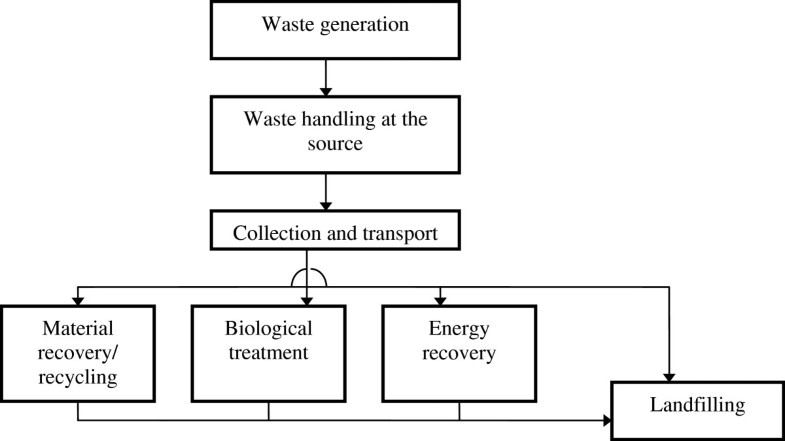 In Germany, the amount of waste disposed of has been reduced considerably within the last years due to the fact that since 2005 the landfilling of untreated waste is no longer allowed. Instead, mechanical, biological, and/or thermal treatment measures have to be carried out before final disposal. This is the result of a planned waste management strategy initiated by the Government more than 20 years ago[2], of which the fundamental objectives are (a) the reduction of waste generation, (b) the prohibition of uncontrolled discarding, discharge, and disposal of waste, and (c) the promotion of integrated waste management systems following the steps: avoidance, recycling, and conversion of waste with a preference to material and energy recovery[2].
The regulations governing waste management in Germany have led to a reduction of waste produced in recent years, decoupling economic development and waste production, in addition to a reduction of greenhouse gas emissions associated with MSW management. Currently, more than 60% of MSW is recovered; if energy recovery processes are included, the figure rises to around 95%[3]. Moreover, the increase in waste recovery is reflected in savings of fossil fuels such as oil, gas, and coal. Electricity production in Germany in 2011 accounted for 615 TWh. The share of renewable energies was 20%, with 7.6% coming from wind power, 3.2% from hydropower, 3.1% from photovoltaic, and 6% from different kinds of biomass, which includes a share of 0.8% coming from energetic utilization of waste[4]. Electricity generation from the use of landfill gas in 2011 was less than 0.1%[5].
In most Latin American countries, the MSW management system is in the best case limited to handling at the source, collection, and disposal at landfills without any pre-treatment[6]. Energy recovery from MSW in Latin America is almost nonexistent. To date, the costs of incineration are far too high for local governments to consider it as an appropriate solid waste management technology[6]. There have been a few experiences with anaerobic digestion in Colombia and Costa Rica[7] but mainly for the treatment of wastewater from agricultural residues. There are some examples where mechanical biological treatment (MBT) has been applied successfully in Latin America, including experiences in Mexico, Brazil, and Chile[8–10]. In most of these cases, the informal waste pickers are the moving power in salvaging recyclable materials.
The Metropolitan Region of Santiago de Chile (MRS) is a typical Latin American megacity, showing population growth over the last years as well as a rising standard of living, associated with an increase of the gross domestic product (GDP) from US$10,000 to US$14,000 per capita in about 10 years. As a consequence, the amount of MSW produced also increased significantly. The high population density and good infrastructure allow for a very effective waste collection system, whereby nearly 100% of the households have access to collection services. Approximately 90% of the MSW generated is deposited in sanitary landfills. Due to particular characteristics of waste management in low- and middle-income countries[11, 12], most of the recycling market is dominated by the informal waste economy, constituted by primary collectors and middlemen[13].
Moreover, the urbanization process in MRS has also increased its energy demand. Electricity supply for MRS is highly dependent from electricity production outside MRS[14], and only about 25% of its demand is produced by power plants within the city. Electricity consumption in 2010 was about 17 TWh; 50% of the production in MRS came from different hydropower plants, and the other half from a combined cycle gas power station. Energy recovery from MSW in MRS from captured landfill gas is so far only realized in the Central Loma Los Colorados I station with an installed capacity of 2 MW. Within the planned phase II, the capacity will be extended to 14 MW, and an additional expansion to reach 28 MW is planned for the year 2024[15].
According to[16], each region should determine how much it is able to spend in MSW management in order to design its management system according to its economical capacity considering at the same time the preservation of human health, conservation of resources, and the environment. Germany and Chile differ largely in their GDP, and the German solid waste management system is highly advanced compared with the Chilean one.
Summarizing, although health and environmental problems arising from inadequate MSW management are well known, Chile, as well as most Latin American countries, has not set enough value into adequate MSW management[
17
] nor has the development of services related to waste management and its energy recovery received sufficient attention. Against this background, it seems to be a big challenge to find sustainable solutions to handle the large amounts of MSW generated. This article firstly presents the evaluation of different practices of treatment, recovery, and disposal of MSW for Santiago de Chile for three different scenarios for the year 2030 based on the Integrative Sustainability Concept of the Helmholtz Association. Based on this background, the following research questions arise:
1.

For the evaluation and comparison of different MSW management systems, the Integrative Helmholtz Sustainability Concept (IHSC) was applied. How can this concept be contextualized to the field of MSW management, what are the most relevant sustainability indicators applicable to this field, and what are their appropriate target values?

2.

What are possible development paths of MSW management in MRS for the next 20 years?

3.

What technical options could improve the sustainability (e.g., in terms of GHG emissions and substitution of fossil fuels) of the MSW management system?
Methods
In order to describe and evaluate the current and the future MSW management system in MRS, the methodological approach was divided into five subsections, starting with a description of the sustainability evaluation, which includes an introduction into the IHSC and its application to the field of MSW management. Secondly, the setup of explorative scenarios is explained, in addition to a description of the relevant characteristics for MSW management of the Business as Usual (BAU), Collective Responsibility (CR), and Market Individualism (MI) scenarios. After these more theoretical explanations, the calculation procedure for waste generation in the three scenarios ('Waste generation' section) as well as the procedure for the selection of MSW management technologies ('Selection of MSW management technologies for the different scenarios' section) is presented. Based on this background information, possible energy production from MSW management in the three scenarios was calculated ('Calculation of energy production from MSW' section).
Results and discussion
Waste generation and waste collection
Table
4
shows a summary of MSW generation for the base situation (2007) as well as for the future scenarios in 2030. The quantity of MSW produced per capita increased from 1.2 kg in 2007 to 1.9 kg in the BAU scenario, to 1.8 kg in the CR scenario, and to 2.0 kg in the MI scenario. Total waste production increases from 2.9 million Mg in 2007 to 8.0 million Mg (BAU), to 7.6 million Mg (CR), and to 8.3 million Mg (MI).
Table 4
MSW management data for 2007 and the different scenarios (adapted from[18]and own elaboration)
| | Population (million) | MSW flow (million Mg) | MSW flux (kg person−1day−1) |
| --- | --- | --- | --- |
| Base situation (2007) | 6.7 | 2.9 | 1.2 |
| Business as Usual | 8.0 | 5.6 | 1.9 |
| Collective Responsibility | 7.6 | 4.9 | 1.8 |
| Market Individualism | 8.3 | 6.1 | 2.0 |
Figures
3
,
4
, and
5
show the mass flow diagram for the BAU, CR, and MI scenarios, respectively. In the BAU scenario, a fraction of about 70% of MSW is deposited in landfills, whereas the rest is diverted for the recovery of materials and energy. Anaerobic digestion was the selected technology for the treatment of the organic fraction of the waste. In the CR scenario, a fraction of 40% is sent to landfills without previous treatment, and the remainder is used for energy and material recovery. In this scenario, anaerobic digestion was also selected for the treatment of the biowaste. Additionally, MBT with anaerobic digestion and RDF production was used to pre-treat the waste arriving at the landfills. In the MI scenario, a total fraction of 80% is sent directly to landfills and only 20% is used for recovery.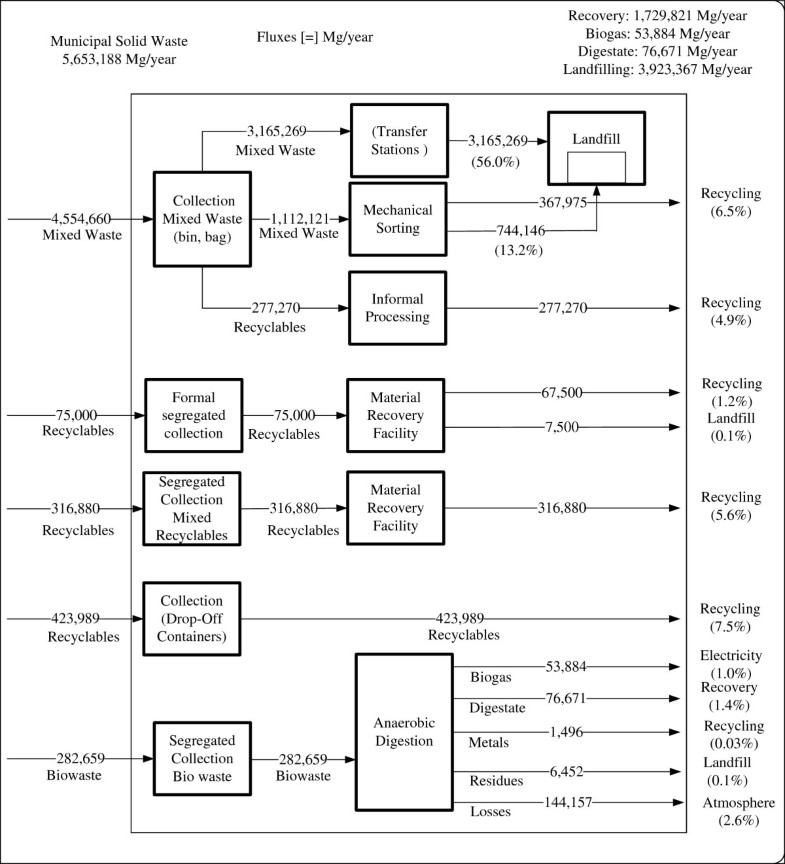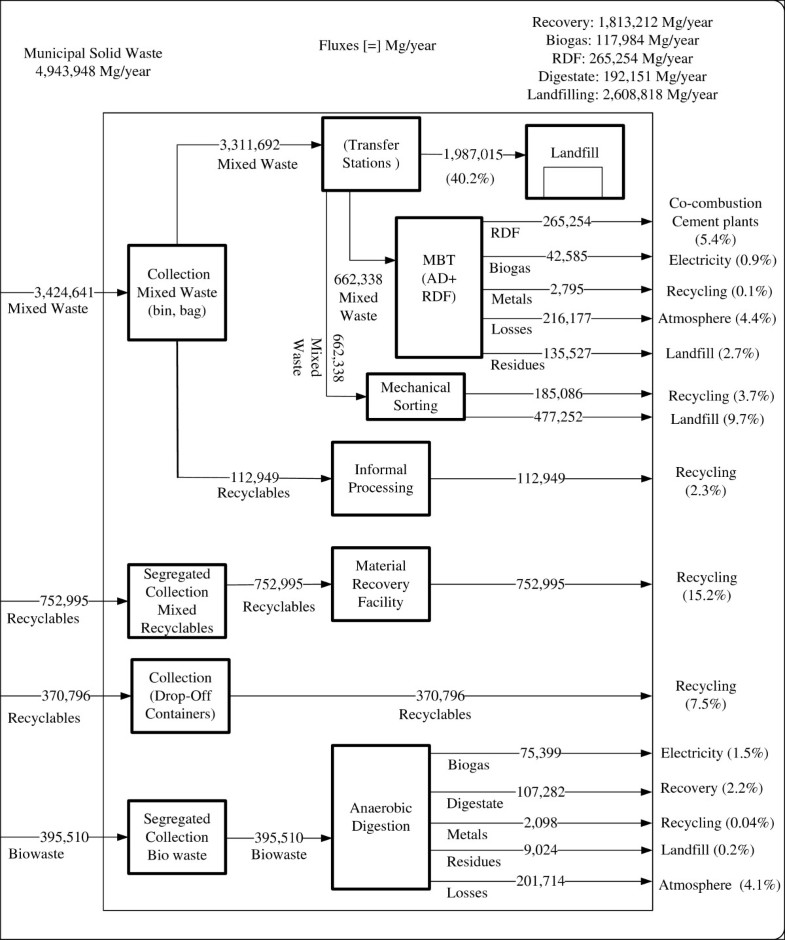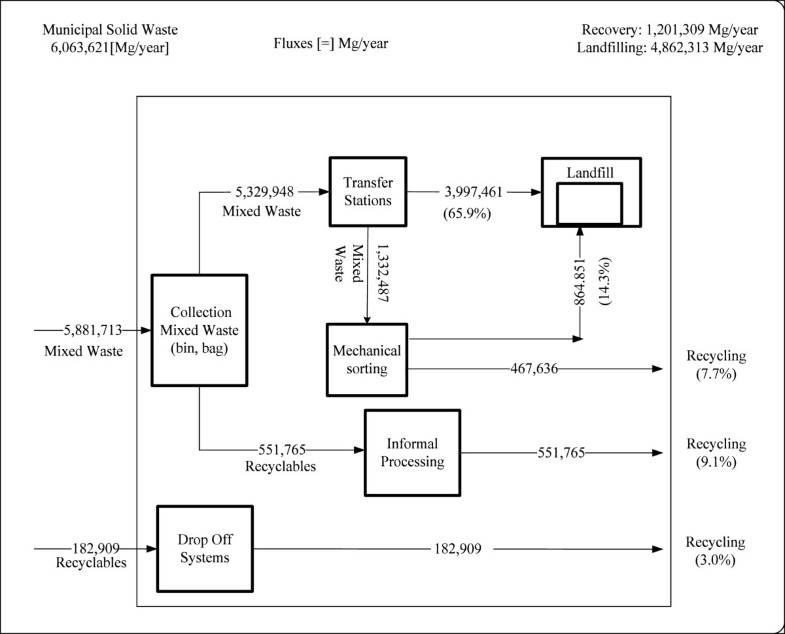 Energy recovery
In 2010, electricity demand in MRS was about 17 TWh, while electricity generation in MRS was only about 25% of this value; therefore, 75% had to be 'imported' via the electricity grid[14]. About 50% of electricity generation in MRS comes from hydropower plants. Due to climate change, it is expected that temperatures will increase, while rainfall rates will decrease, resulting in a decrease of the stream flow in the rivers and therefore possibly in a decrease of electricity production from hydropower plants. Moreover, it is expected that energy demand will rise due to rise of population and standards of living. In this section, it is shown how different fractions of MSW and landfill gas might contribute to the energy supply in MRS in the future scenarios.
In the BAU scenario, energy recovery from MSW is achieved by the installation of anaerobic digestion plants to produce biogas. In addition, landfill gas at the three existing landfills is collected and used for electricity generation.
In the CR scenario, in addition to the installation of anaerobic digestion plants to produce biogas, it was considered that the biological treatment process of the MBT plants consists also anaerobic treatment. Many of these plants have even been built[41, 42], and they are gaining importance in countries where there is still disapproval against incineration but where there is interest in increasing the fraction of the amount of energy produced from waste[41].
In the MI scenario, there is a lack of incentives promoting alternative waste treatment technologies; therefore, only mechanical sorting processes are implemented. In this scenario, there are no new technologies for the recovery of energy from waste, and only landfill gas is used as a renewable energy source.
Table
5
gives an overview of energy production within the different scenarios. Total electricity consumption in MRS was about 17 TWh. Therefore, the energy generation from MSW is only of minor importance (about 6% compared to electricity consumption in the same year). On the other side, taking into consideration only the amount of energy produced in MRS (25% of total energy consumption, which means 4.25 TWh), energy generation from MSW might contribute with nearly 25%.
Table 5
Energy recovery from waste (own elaboration)
Biogas/landfill gas collected (million Nm3year−1)

Net energy production (GWh year−1)

Alternative fuel (RDF) production (thousand Mg)

Thermal recovery (substitution of conventional fuels (GWh year−1)

BAU

CR

MI

BAU

CR

MI

BAU

CR

MI

BAU

CR

MI

Anaerobic digestion

47

65

-

63

88

-

-

-

-

-

-

-

Anaerobic digestion in MBT plants

-

37

-

-

44

-

-

-

-

-

-

-

RDF from MBT

-

-

-

-

-

-

-

265

-

-

1,057

-

Landfill gas collected (2030)

440

377

489

890

763

989

-

-

-

-

-
Worldwide, there is a general agreement that global climate change is, to a large extent, caused by anthropogenic CO2 emissions. It is necessary to reduce the CO2 footprint of human activities. Therefore, even though the contribution to total energy consumption is relatively low in the three scenarios, it is important to consider that landfill gas will form in any case; therefore, it does make sense to use it as a renewable source of energy, instead of releasing it into the atmosphere. The latter would increase the emissions of greenhouse gases due to the CH4 produced being 21 times more potent than CO2. On the other side, the production of RDF and its use as a secondary fuel in cement kilns might contribute to about 25% to total energy consumption for cement production in MRS (for the year 2007).
Evaluation of MSW management with respect to sustainability
The management of MSW in MRS in the different scenarios was evaluated on the basis of different sustainability indicators and on their associated target values, as explained in the 'Sustainability evaluation' section (see Table
6
). These target values represent a commonly agreed goal, which should be achieved in the future in order to fulfill the principles of sustainability. Indicators and target values were defined together with Chilean investigators, consultants, and government experts during several workshops within this study.
Table 6
Most relevant sustainability indicators for the different scenarios (own elaboration)
| Indicator | 2007 | Target | BAU | CR | MI |
| --- | --- | --- | --- | --- | --- |
| Waste fraction recovered as material or energy (%) | 13.9 | 36 | 31 | 43 | 20 |
| Income level of informal workers in relation to individual household income (%) | 76 | 100 | 113 | 154 | - |
| Amount of mixed waste pre-treated to reduce biodegradable content in relation to total mixed waste (%) | 0 | 50 | 0 | 19 | 0 |
| Greenhouse gases emitted during waste management (kgCO2eq person−1 year−1) | 143 | 71 | 235 | 153 | 296 |
| Costs of MSW management in relation to GDP (%) | 0.22 | 0.30 | 0.16 | 0.17 | 0.16 |
The improvement shown in the BAU scenario for the amount of waste recovered (31%) is attributed to the installation of mechanical sorting plants and segregated collection of biodegradable waste and recyclables through organized primary waste collectors, in addition to energy recovery from landfill gas and biogas. The organization of the informal workers is also reflected in an improvement of their income level.
In the CR scenario, the recovered quantity of MSW (43%) is higher than the target (36%) because the implemented measures are based on several different collection and treatment systems: segregated collection of biodegradable waste, inclusion of primary collectors into collection systems, participation of citizens in drop-off systems, and recovery of the energy from MSW and from landfill gas (Figure4). Nevertheless, greenhouse gas emissions are still far away from the target value. This fact can be mainly attributed to the still large amount of organics being disposed of at landfill sites.
The MI scenario shows large deficits in almost all the indicators. It must be noticed that even though this scenario presents the largest processing capacity for the mechanical sorting plants, the recovery value in this scenario is the lowest. One of the goals of MSW management should be the conservation of resources[16], which in general is more related with the recovery of materials (mechanical sorting plants in this case), but of equal importance should be energy recovery from waste. However, the intrinsic characteristics of this scenario[18] did not allow the implementation of these techniques because all environmental measures are moved by private markets and there are no laws forcing the implementation of energy recovery. Neither the informal waste pickers is included into the management system. Therefore, they were not able to improve their working capacity and working conditions.
In the three scenarios, there is still a large fraction of mixed MSW disposed of at landfills. This is related with high emissions of greenhouse gases due to the decomposition of the biogenic fraction. The emissions of greenhouse gases contribute to climate change. Energy recovery from the biogenic fraction of the MSW might contribute to mitigate this phenomenon because the CO2 emitted from the thermal conversion of this fraction is neutral for the climate. Additionally, it contributes to the conservation of resources by substitution of other combustibles. If the landfill gas is not used to produce electricity, but only collected and flared, the GHG emissions in per capita terms increases by 13%, 17%, and 11% in the BAU, CR, and MI scenarios, respectively. Therefore, the substitution of fossil fuels by landfill gas in electricity generation plays a significant role in the reduction of GHG emission, in particular in the CR scenario.
The results also imply that the informal waste pickers should be integrated in separate collection of recyclables (BAU and CR scenarios). For biodegradable waste, a good treatment option is anaerobic digestion with utilization of the biogas produced (BAU and CR scenarios) for energy generation.
In the three scenarios, incineration of MSW was not taken into consideration because during debates with Chilean experts, it was concluded that this will not be an option for the next 20 years due to high costs of incineration (US$110 to US$160 Mg−1)[41] compared with current costs of waste management in MRS (collection costs US$26 Mg−1, landfilling costs US$11 Mg−1)[43].
The results of the sustainability evaluation show that each explorative scenario presents deficits; even in the CR scenario, not all the targets can be reached. It is clear that the integration of other factors is still required in order to improve the sustainability of the MSW management system. Technology is only one part of the whole structure. A sustainable system requires the incorporation of government policy and regulations, responsible consumption patterns, and adequate cost calculations and education, in addition to technological developments.
Moreover, it is necessary to take advantage of the subsystems already working within the whole system. Two important examples in this case are the integration of the informal waste pickers, which already have an effective network in MRS, and the use of landfill gas as a renewable energy source for energy generation.
The three scenarios did not look to identify a best solution but investigated possible futures in MRS. The results should help decision makers to visualize how the future might look like and take appropriate measures in time. The authorities of MRS should start now to plan and construct the appropriate MSW treatment plants and start to implement the respective measures for the MSW management that they want to achieve in 2030. The model presented here could also be used, with the respective adaptations, in other Latin American megacities in order to determine the adequacy of the MSW management there.
Conclusions
In this study, two key tools were used in order to evaluate the sustainability of different MSW management systems and to describe its development in the next 20 years. On the first place, the ISHC was used as a tool to evaluate the sustainability of the MSW management of Santiago de Chile in the future. This concept, which has also been applied to other fields of application within the Risk Habitat Megacity Project (such as water management and energy demand and supply), proved to be adequate because it provides a methodology to select indicators, determine their current (and future) value, and define desirable target values, and by comparison of both (actual vs. desired), it was possible to evaluate the actual MSW system as well as future MSW management options with respect to whether there will be an increase in sustainability or not.
On the other hand, in order to define how the MSW management of Santiago de Chile will look like in the future, the scenario technique was used. Explorative scenarios were developed, giving an insight about which probable MSW management trends will follow in accordance with possible political, economical, and environmental decisions taken today.
The BAU scenario was characterized by current trends and policies. The CR scenario was characterized by stronger emphasis on social values and implementation of tougher environmental regulations. The MI scenario was characterized by a materialistic culture, with a strong private influence in all political and economic areas. The results showed that MSW generation increased in total and in per capita terms in the three scenarios, exceeding the target value chosen (1.6 kg (person·day)−1). In the CR scenario, a recovery value of 43% was obtained (target value was 36%) through public-private partnerships (drop-off systems), private investments (as in the case of sorting plants at transfer stations), and organizational improvements of the informal waste sector. In addition, there is a large contribution to sustainability by the recovery of biowaste and subsequent energy generation from biogas and RDF.
In all three scenarios, landfill sites contribute to methane emissions in MRS and thus have a share in climate change. The improvement in efficiency of landfill gas collection systems results in a reduction of these emissions in all three cases. The landfill gas collected is used as a renewable energy source for electricity generation, thereby reducing CO2 emissions from conventional power stations fired by fossil fuels.
Even though the share of electricity production by MSW fractions and biogas in the three scenarios is relatively low, they are accompanied by positive aspects such as the reduction of methane emissions on one side and favoring energy supply within the MRS from renewable energies on the other side. All three scenarios show some sustainability deficits. Furthermore, the results obtained show that an integration of several factors is required in waste management systems. Technology is only one part of the whole solid waste management structure, and it cannot solve alone all the associated problems and avoid its associated negative impacts. A more or less sustainable system requires the incorporation of government policy and regulations, sustainable consumption patterns, adequate cost calculations, and education, in addition to technological development.
Abbreviations
BAU:

Business as Usual scenario
CR:

Collective Responsibility scenario
GHG:

green house gas emissions
IHSC:

Integrative Helmholtz Sustainability Concept
MBT:

mechanical biological treatment
MI:

Market Individualism scenario
MRS:

Metropolitan Region of Santiago de Chile
MSW:

municipal solid waste
RDF:

refuse-derived fuel.
Declarations
Acknowledgements
This study was supported by the Initiative and Networking Fund of the Helmholtz Association. Additionally, funding for the foreign stay in Santiago de Chile was given by the Karlsruhe House of Young Scientists.
Authors' Affiliations
(1)
Linde AG Engineering Division, München, Germany
(2)
Karlsruhe Institute of Technology, Karlsruhe, Germany
Copyright
© González Martínez et al.; licensee Springer. 2012
This article is published under license to BioMed Central Ltd. This is an Open Access article distributed under the terms of the Creative Commons Attribution License (http://creativecommons.org/licenses/by/2.0), which permits unrestricted use, distribution, and reproduction in any medium, provided the original work is properly cited.